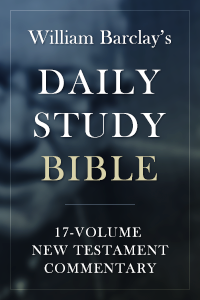 Original Daily Study Bible New Testament
17 Volumes
Highlights
A treasured favorite for over 50 years
Excellent tool for Greek word studies
17-Volume New Testament set
Best known as Barclay's New Testament Commentary
Product Details
William Barclay's Daily Study Bible Commentary is one of the most loved, easy-to-read and often-quoted commentaries of all time. Using this dynamic commentary will help you apply the Bible in your own life —and inspire you to teach others.
The Daily Study Bible can be used for both devotional and serious Bible study. Useful for individual or group use, it can help you see what the message of the New Testament means for your daily life. In a straightforward way, Barclay leads you through the Word of God, helping you to understand confusing passages and bringing the Bible to life with his helpful insights on ancient Middle Eastern culture.
Dr. William Barclay was the professor of Divinity and Biblical Criticism at the University of Glasgow and was widely acknowledged as a leading theologian and expert in biblical languages. As a professor, he dedicated his life to "making the best biblical scholarship available to the average reader."
This commentary doesn't set a program of daily study as the name suggests, but rather, Barclay did something unique. His commentary takes you verse-by-verse through his own translation of the New Testament. He lists and examines every possible interpretation known for each text and provides all the relevant background information. Best of all, he clearly states everything in layman's terms, so anyone can understand. Language barriers will disappear. The nuances found in the Greek text are carefully explained, and using this commentary in Wordsearch makes it even easier to follow. Each Greek word appears as a hyperlink to your Strong's Dictionary so you can see more definitions.
Check out a sample of this series by clicking on the "Sample" button.
About the Author
William Barclay (1907-1978) is known and loved by millions worldwide as one of the greatest Christian teachers of modern times. His insights into the New Testament, combined with his vibrant writing style, have delighted and enlightened readers of all ages for over half a century. He served for most of his life as Professor of Divinity at the University of Glasgow, and wrote more than fifty books--most of which are still in print today. His most popular work, the Daily Study Bible, has been translated into over a dozen languages and has sold more than ten million copies around the world.
Endorsements
Daily Study Bible is excellent for word studies and historical information.