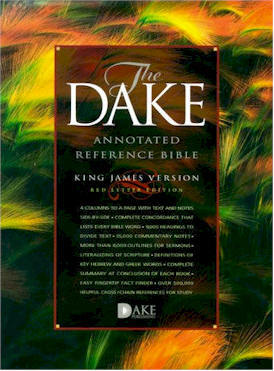 Highlights
Notes and Helps reflect a doctrinally sound, literal interpretation of the Word of God
Features 35,000 notes on Scripture
Over 500,000 cross references
Dubbed The Pentecostal Study Bible
Product Details
The Dake Annotated Reference Bible is like no other study Bible on the market. More than twenty years of painstaking research went into it. With 35,000 commentary notes, 500,000 cross/chain references and 9,000 outline headings, the Dake Bible gives you more resources for personal study than you'll find in any other Bible. Period.
Yet it's not just the number of notes, references and headings that set the Dake Bible apart. It's what those tools do for you. Thousands of passages are amplified. Obscure readings are made clear. Ancient customs are explained, along with matters of history, culture and geography. Greek and Hebrew words and idioms are handled. In addition, parables, types, symbols, allegories and figures of speech are dealt with. Dispensational issues are treated in a systematic fashion, along with hundreds of details of biblical prophecy.
In other words, the Dake Bible is the ultimate tool to help you truly understand Scripture and "rightly divide the word of truth."
About Dake Publishing
Dake Publishing, Inc. has been family-owned and operated since its inception in 1961. We are a Christian publishing company, boldly proclaiming Jesus Christ as our Lord and Savior. Birthed by the publication of The Dake Annotated Reference Bible, the company has grown out of the writing ministry of Rev. Finis Jennings Dake.
Dake was born in Iberia, Missouri, in 1902 — just four years before the famous Azuza Street Revival which became the foundation for modern Pentecostalism. He was the eighth of eleven children. Throughout his eighty-four years he pastored several churches, started a Bible school, and held numerous evangelistic meetings and lectures. His God-given ability to quote Scripture flawlessly without memorizing it earned him a reputation as the "Walking Bible". He hosted a radio broadcast twice daily for thirteen years, answering any Scriptural question posed to him. In the midst of all this activity (which included over 100,000 hours of intensive Bible study), Dake raised a family with his wife, Dorothy, and wrote several books, as well as the huge volume of commentary notes in The Dake Annotated Reference Bible.
The New Testament portion of the Dake Bible (which included Psalms, Proverbs, and the book of Daniel) was first published in 1961. The complete Dake Bible became available in 1963.
Endorsements
The Dake Bible is one of the greatest literary works ever made for Pentecostal and Charismatic Believers
The Dake Bible is the best reference and Study Bible you can get
The Dake Bible has helped me build a solid foundation in the Word