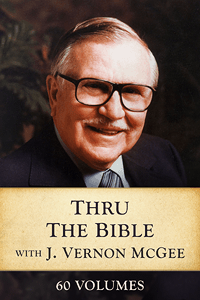 Thru the Bible - Old and New Testaments
Highlights
Features the complete 60-volume set taken from the Thru the Bible radio broadcast
Includes introductions, detailed book outlines, and thorough discussions of significant passages
From one of the most popular modern-day biblical commentators
Series has sold over three million copies
Product Details
Dr. John Vernon McGee is one of the best known modern-day biblical commentators, and his Thru the Bible series will take you through the entire Bible verse-by-verse. It will give you ideas and insights for creating your own sermons as you preach through a book of the Bible, or even the entire Bible.
In 1967, McGee started this project as a daily radio broadcast. After preaching through the Bible in five years, he edited and compiled this expository work into this 60-volume set that has now been translated into over 100 languages worldwide.
Thru the Bible Quickly Exposes Key Bible Truths
McGee has a remarkable talent for drilling down to core truths of the Bible and delivering teachable lessons with brilliant homespun illustrations that are memorable. One aspect of his commentary might surprise you. McGee always tells you what the Scripture says and means, but he often goes a step further by telling you what the text does not say. You'll find this adds a new layer of clarity to your studies.

For example, let's say you decide to preach through the Sermon on the Mount. McGee's commentary on the Beatitudes begins by reminding us that they are the "be-attitudes," not the "do-attitudes." You'll find he pauses in his commentary to say, "Let me illustrate what I mean with a little story." He then teaches us what this section of Scripture means through a real-life, to-the-point story.

Read an excerpt of the volume on 2 Peter.
About the Author:
John Vernon McGee was born in Hillsboro, Texas in 1904. McGee remarked, "When I was born and the doctor gave me the customary whack, my mother said that I let out a yell that could be heard on all four borders of Texas!" His Creator well knew that he would need a powerful voice to deliver a powerful message
He graduated with his B.Div. from Columbia Theological Seminary and his Th.M. and Th.D. from Dallas Theological Seminary. He served Presbyterian churches in Decatur, Georgia; Nashville, Tennessee; and Cleburne, Texas before he moved with his wife to Pasadena, California, where he accepted a position at the Lincoln Avenue Presbyterian Church.
He moved from Pasadena to Los Angeles and became the pastor of the Church of the Open Door in 1949, where he continued as pastor until 1970. McGee also served as the chair of the Bible department at the Bible Institute of Los Angeles (currently Biola University) and as a visiting lecturer at Dallas Theological Seminary.