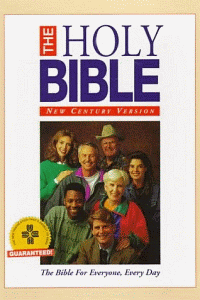 New Century Version (NCV)
Highlights
Sold more than 6 million copies
Easy to read translation
Includes Bible Dictionary
Product Details
The New Century Version is one of the easiest translations of the Bible to understand. It accurately communicates the messages found in the original languages of Biblical manuscripts, using the kind of terms you use every day. It uses contemporary phrases, word pictures, and expressions, and replaces vague and overly religious language with down-to-earth vocabulary. The end result is a fresh, straightforward, and strong translation of God's truth; and it is something you can connect with in your daily life. You'll find it easier to experience God's Word as it truly is—absolutely clear, powerfully alive, and completely life-changing.
The New Century Version is a translation of God's Word from the original Hebrew and Greek languages. A previous edition of the complete New Century Version, the International Children's Bible, was published in 1986.
Two basic premises guided the translation process of the New Century Version. The first concern was that the translation be faithful to the manuscripts in the original languages. A team composed of the World Bible Translation Center and fifty additional, highly qualified and experienced Bible scholars and translators was assembled. The team included people with translation experience on such accepted versions as the New International Version, the New American Standard Bible, and the New King James Version. The most recent scholarship and the best available Hebrew and Greek texts were used, principally the third edition of the United Bible Societies' Greek Text and the latest edition of the Biblia Hebraica, along with the Septuagint.
The second concern was to make the language clear enough for anyone to read the New Century Version and understand it. In maintaining clear language, several guidelines were followed. The vocabulary choice has been based upon The Living Word Vocabulary by Dr. Edgar Dale and Dr. Joseph O'Rourke, which is the standard used by the editors of The World Book Encyclopedia to determine appropriate vocabulary. For difficult words that have no simpler synonyms, footnotes, references, and dictionary definitions are provided in this translation.