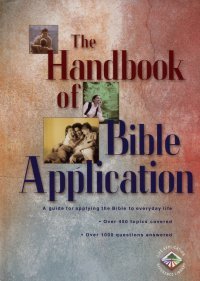 Handbook of Bible Application
A Topical Guide for Applying the Bible to Everyday Life
Highlights
Features 665 topics from Abandon to Zeal
Over 1000 questions answered
Product Details
Do you want your study of the Bible to be meaningful and relevant? Do you want your preaching and teaching to speak to everyday concerns of your audience? Have you been frustrated by the lack of resources that bridge the gap between the past and the present, the conceptual and the practical? The Handbook of Bible Application is a comprehensive resource designed with these questions in mind. It speaks to the many issues confronting us at home, at church and at work. This handbook contains more than just factual information; it relates the timeless truths of the Bible to the heart of real life.
Here are some of its outstanding features:
Hundreds of life-oriented topics
Provactive questions to facilitate discussions
Thousands of powerful, life-oriented notes adapted form the best-selling Life Application Bible
Key Bible verses from the Living Bible and the New International Version
About the Editor
Neil S. Wilson, a graduate of Aurora University (BA) and Trinity Evangelical Divinity School (MAR), served as pastor of the Eureka United Methodist Church in Wisconsin for 13 years. Neil has contributed to dozens of projects for Livingstone, including the Life Application Bible and the Life Application Bible Commentary. He is the author or general editor for The Handbook of Bible Application, Love Notes, The Mysterious Old Church, and The Tall Ship Shakedown.