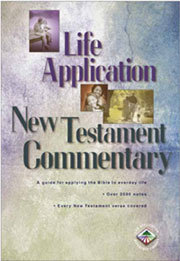 Life Application NT Commentary (Concise)
Highlights
Offers practical, concise insight on every verse in the New Testament
A straightforward resource that explains Biblical text in a clear, practical manner
1026 page single-volume commentary filled with practical application tips and information
Product Details
This convenient resource, based on the best-selling Life Application Bible Commentary series, allows you to get all of the useful background information you need on every verse in the New Testament. You can increase your insight without getting bogged down in obscure facts.
This volume communicates the life-changing truths of the Gospel in a streamlined, straight-forward method perfect for anyone who wants to understand the New Testament and how it applies to real life.
About the Editor:
Bruce Barton is an experienced writer and has worked for twenty-six years with Youth for Christ before forming The Livingstone Corporation in 1988. He served as a senior editor of the
Life Application Bible
and as the senior editor of the
Life Application Bible Commentaries
.