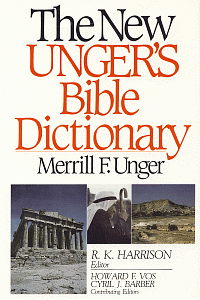 New Unger's Bible Dictionary
Highlights
Find a Topic on more than 6,779 articles
More than 881,000 copies in print!
One of the most up-to-date Bible Dictionaries available
Named as one of the 850 Books for Biblical Expositors by the Master's Seminary
Product Details
Though the Bible was written thousands of years ago, it continues to have relevance and meaning in your life today. But sometimes as you study a passage, do you find confusing references to unfamiliar people, far away places and ancient concepts that make it hard for you to understand and apply God's Word? How can you easily familiarize yourself with them?
New Unger's Bible Dictionary defines and clarifies unfamiliar names of persons, places and objects in the Bible. You'll treasure this in-depth masterpiece, containing more than a million words in over 6, 700 articles. Fully updated and usable with all major Bible translations.
This classic work was originally written in 1957 and completely updated in 1988 by Moody Press, a name you can trust.