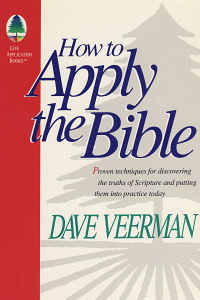 How to Apply the Bible
Proven Techniques for Discovering the Truths of Scripture and Putting Them Into Practice Today
Highlights
The Billy Graham Evangelistic Association has used over 100,000 copies of this book in their outreach
A practical and effective guide to applying the Bible
Product Details
How to Apply the Bible explains the process of reading, understanding, and "doing" Scripture. Sunday school teachers, pastors, and Bible study leaders will grab on to key principles that revolutionize the way we communicate God's truth to others, including:
determining the objective message
being specific about application, then taking manageable action steps
utilizing several application techniques
balancing study time versus application time
inviting the Holy Spirit to help us "live" God's Word
Getting the most out of the Bible becomes easier as readers enjoy the benefit of visual charts, chapter-at-a-glance summaries, and four practical appendixes.
About the Author
Dave Veerman worked for twenty-six years with Youth for Christ before forming The Livingstone Corporation in 1988 with Bruce Barton, a company devoted to helping Christians and Christian organizations improve ministry effectiveness. He served as a senior editor of the Life Application Bible and has written nearly forty books, including Understanding Your Teenager, Tough Parents for Tough Times, Parenting Passages, and Dads That Make a Difference. He currently presents Understanding Your Teenager seminars across the country. Dave holds a M.Div from Trinity Evangelical Divinity School.
Endorsements
How to Apply the Bible is one of the most helpful and practical resources I've seen for the Christian who wants to know and apply the practical teachings of Scripture. I wish I had read it twenty-five years ago!