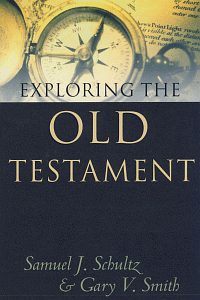 Exploring The Old Testament
Highlights
Complete overview of the Old Testament
Product Details
Since "the New is in the Old concealed, and the Old is in the New revealed" a study of the Old Testament is an imperative foundation for clarity of both Old and New Testament Bible teaching. Exploring The Old Testament will enrich a believer's knowledge and life and make for a better teaching to the glory of God.
Chapters conclude with projects, questions and exploration activities that not only test the readers' grasp of the materials but also provides opportunities for more detailed and intensive studies. This well-executed work does much to acquaint people with the Old Testament's major divisions and its amazing unity as a whole—all of which can lead to a deeper faith.
About the Authors:
Gary V. Smith earned his Ph.D., Dropsie College; B.A., Wheaton College; M.A., Trinity Evangelical Divinity School. He is currently the Professor of Christian Studies at Union University in Jackson, Tennessee. He has worked as a translator on four Bible translation teams.
Samuel J. Schultz was born in 1914, and was born again as a nine year-old boy attending Vacation Bible School. His parents were Mennonite and spoke only German until 1920. Sam attended St. Paul Bible Institute for two years, and then received an A.A. degree from Bethel Junior College in 1938, followed by his B.A. in 1940 from John Fletcher College in Iowa. In 1944 Sam received his Bachelor of Divinity degree from Faith Theological Seminary in Delaware, followed by his S.T.M. from Harvard University in 1945, and his Th.D. from Harvard in 1947. From 1949-80 he taught Old Testament at Wheaton College, Wheaton, IL. He was Samuel Robinson Professor of Biblical Studies and Theology Emeritus upon his retirement. He was the 28th member to join in forming the Evangelical Theological Society in 1949.
Sam wrote a number of works, including The Old Testament Speaks; Old Testament Survey; Prophets Speak; Deuteronomy: The Gospel of Love; The Gospel of Moses; Leviticus; God Among His People; and Messages of the Old Testament. He was a long-time member of Evangel Baptist Church in Wheaton and for the last ten years was a part of Christ Church in Oakbrook, IL. Sam died of acute Leukemia in 2005.