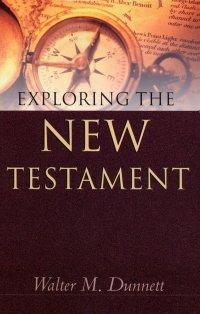 Exploring The New Testament
Highlights
Complete overview of the New Testament
Product Details
If you desire to more clearly understand how God works in the lives of His people, studying the Bible is the place to begin. And while delving into specific passages is important and necessary, those familiar chapters and stories take on new dimensions when you see them as part of a sweeping panorama of the Bible.
Exploring the New Testament takes a survey approach that will deepen your knowledge of God and, in turn, enrich your life. You'll gain an overview of the entire New Testament, consider the respective writers and their writings, and lay a solid foundation for understanding the message and revelation of Jesus Christ.
Chapters conclude with application activities as well as discussion questions that not only test your grasp of the materials, but also provide you with an opportunity for more detailed and intensive study. As you strive to fulfill the challenge of II Timothy 2:25 - that of showing yourself approved unto God as you rightly divide His word of truth - you'll enjoy a truly rewarding experience that will also expand you Biblical horizons.
About the Author
Walter M. Dunnett was born in Tayport, Scotland. Dunnett received his B.A., M.A., and M.Div. from Wheaton College. His S.T.M. from Luther Northwestern Seminary, D.W.S. from the Institute for Worship Studies and his Ph.D. in Biblical Literature from Case Western Reserve University. He was ordained as Priest in the Episcopal Church in 1992. Dunnett served as Priest Associate at Church of the Messiah in Minnesota from 1992 to 1997. He has served as Assistant Rector at St. Mark's since 1998. In all Dunnett has served as a college professor in Bible and New Testament Greek for 40 years.