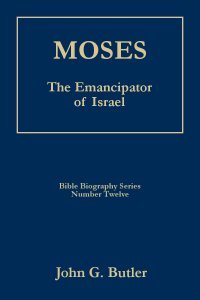 Bible Biography Series - Moses
The Emancipator of Israel
Highlights
Follows Moses' triumphs and failures to reveal the deeper truths of God's Word
Verse by verse commentary assures you of solid, Bible based teaching
Beautifully alliterated to make each core truth more memorable
Product Details
From the experiences of Bible characters can be learned many helpful lessons in matters of faith, godly conduct, and Christian service. God could have given the Scriptures to us only in the form of a rule book. But instead He wisely included in the Scriptures instructive and exciting biographies of flesh and blood people to whom we can easily relate. The Bible Biography Series is a study of twenty-seven prominent Bible characters whose lives provide us with much important truth for every person, age, and culture.
These books are expository studies of the Scripture which allow the Scripture determine the subject matter and lessons. They are also extensively outlined to organize and clarify the study. While the books, because they are biographical, emphasize the practical truths of the text, they also teach much doctrine where that is part of the text of study. The series includes books on Abraham, Daniel, David, Elijah, Elisha, Gideon, Hezekiah, Isaac, Jacob, Job, John the Baptist, Jonah, Joseph, Joshua, Lot, Mordecai, Moses, Nehemiah, Noah, Paul, Peter, Ruth, Samson, Samuel, Saul, and Solomon.
About the Author
John G. Butler has been a Baptist minister for over half a century with "pastorates in Williamsburg, Ohio; Detroit, Michigan; Chicago, Illinois; and Clinton, Iowa. He is a veteran of the United States Navy, attended Tennessee Temple University and graduated from Cedarville University. Butler is also the author of the Bible Biography Series —a twenty-seven volume series about major Bible characters; the Studies of the Savior —a ten volume series about Jesus Christ; and, the Daily Bible Reading—a unique four volume devotional series that emphasizes expository Bible study.
Endorsements
John Butler has produced a powerful and practical series on the lives of biblical characters. These expository books are thoroughly organized and outlined, and will help preachers and Bible teachers in preparing sermons or lessons. You will be blessed by the author's alliterative style, which stamps every message with a subtle, poetic flair.