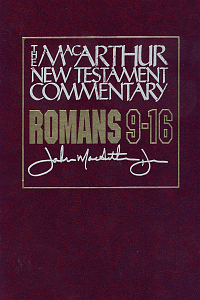 MacArthur New Testament Commentary - Romans 9-16
Highlights
Over 1,000,000 copies of The MacArthur New Testament Commentaries sold to date
Considered the premier New Testament Commentary series, used worldwide by pastors, teachers, and students of the Bible
Not linguistically or theologically technical, but explanatory
From Grace to You's John MacArthur
Product Details
The New Testament Commentary Series from noted Bible scholar John F. MacArthur Jr. takes readers on a journey through biblical texts to discover what lies beneath the surface, focusing on meaning and context, and then reflecting on the explored passage or concept.
MacArthur outlines the purpose of this commentary series: "Some commentaries are primarily linguistic, others are mostly theological, and some are mainly homiletical. This one is basically explanatory, or expository. It is not linguistically technical, but deals with linguistics when that seems helpful to proper interpretation. It is not theologically expansive, but focuses on the major doctrines in each test and on how they relate to the whole of Scripture. It is not primarily homiletical, although each unit of thought is generally treated as one chapter, with a clear outline and logical flow of thought. Most truths are illustrated and applied with other Scripture. After establishing the context of a passage, I have tried to follow closely the writer's development and reasoning.
"My prayer is that each reader will fully understand what the Holy Spirit is saying through this part of His Word, so that His revelation may lodge in the minds of believers and bring greater obedience and faithfulness — to the glory of our great God." — John MacArthur, Jr.
About the Author
John MacArthur, Jr. pastors Grace Community Church in Sun Valley, California, and serves as President of the Master's College and Seminary. A well-known Bible expositor and conference speaker, he has written numerous books. He is also the Bible teacher on "Grace to You", an international radio broadcast. He and his wife Patricia live in Southern California and have 4 grown children and eleven grandchildren.
Endorsements
The MacArthur New Testament Commentary is nothing less than a library of faithful exegesis and exposition. This project is unparalleled in our times, and John MacArthur has produced a masterful commentary series that demands attention and deserves a place in every preacher's library—where it should be kept close at hand. These commentaries remind us all that expository preaching is very much alive. Each new volume should be greeted with enthusiasm and gratitude.