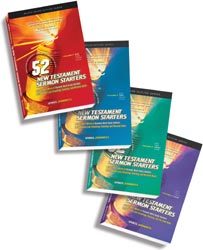 52 New Testament Sermon Starters
Highlights
4 Volume Set
A key verse given for each outline, which is the focus of the entire passage the outline covers
An Index of Greek Words; listing each Greek word (transliterated) mentioned in the outlines along with a definition
The Scripture references where the word is found (if applicable) and the page number where the word occurs
Product Details
This book is a compilation of selected outlines which previously have been published in Pulpit Helps, a publication read by over 200,000 pastors and teachers of the Bible. These outlines are written to meet the need of those who follow the Lectionary, a system used by a number of churches, and are as relevant and applicable today as they were when first published, espousing the timeless truths of God's Word. Each outline follows in order from Matthew to Revelation.
As a Bible teacher, preacher, evangelist or Pastor, finding time for proper sermon preparation in today's multi-tasked world becomes increasingly challenging. 52 New Testament Sermon Starters can help you every week of the year!
Included are topics such as:
The Seven Last Sayings of Christ
You Cannot Serve Two Masters
Faith is the Only Means of Justification
How to Worship Jesus
About the Author
Spiros Zodhiates was born to Greek parents on the island of Cyprus in 1922. After completing his Greek education, he attended the American University in Cairo, Egypt, The National Bible Institute (now Shelton College), and New York University. He earned his Doctor of Theology degree from Luther Rice Seminary. In addition, Dr. Zodhiates has been the recipient of several honorary doctorates.
In 1946, he came to the United States at the invitation of the American Mission to the Greeks, Inc. At that time, there were two part-time employees who met in a small, one-room office. Dr. Zodhiates became president of this organization in 1966. Now known as AMG International ('Advancing the Ministries of the Gospel'), it carries on a worldwide evangelistic and relief ministry and has its headquarters in Chattanooga, Tennessee.
Dr. Zodhiates is a recognized authority on the Greek New Testament, and has edited an edition of the Modern Greek New Testament that was published by the Million Testaments Campaign and the American Bible Society. He is the author of numerous exegetical books and booklets in both the Greek and English languages. In addition, he was heard daily on the New Testament Light radio program, released over a network of stations across the United States and Canada.
After suffering numerous health problems in the late 1990s, Zodhiates transitioned out of active work, though many of his commentary manuscripts are still being edited and published, and his radio and television recordings are being redistributed digitally. He died in Chattanooga on October 10, 2009.