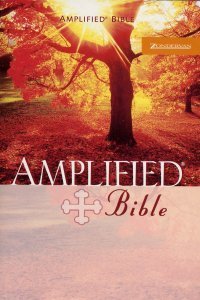 Highlights
Formal equivalence (word for word)
Uses a unique system of Punctuation, Italics, References, and Synonyms to unlock subtle shades of meaning as found in the original languages
Extensive footnotes are included that provide historical and archaeological information as well as devotional insights
Named as the Master's Seminary's 850 Best Books for Biblical Expositors
Product Details
The Amplified Bible is a translation that, by using synonyms and definitions, both explains and expands the meaning of words in the text by placing amplification in parentheses and brackets after key words or phrases.This unique system of translation allows the reader to more completely grasp the meaning of the words.
The Amplified Bible is a translation from the accepted Hebrew, Aramaic, and Greek manuscripts into literary English. It is based on the American Standard Version of 1901, Rudolph Kittel's Biblia Hebraica, the Greek New Testament of Westcott and Hort, and the 23rd edition of the Nestle Greek New Testament as well as the best Hebrew and Greek lexicons available at the time. The Cognate languages, the Dead Sea Scrolls, and the Septuagint were compared for interpretation of textual differences.
The Amplified Bible was published in six stages: Gospel of John (1954), New Testament (1958), Old Testament Volume Two (Job-Malachi) (1962), Old Testament Volume One (Genesis-Esther) (1964), and the complete Bible in 1965. The bulk of the work of producing the Amplified Bible was done by Frances Siewert, Litt. B., B.D., M.A., Litt. D, (1881-1967) with the financial support of the Lockman Foundation in La Habra, California. The Amplified Bible was revised again in 1987, by anonymous editors; but the changes in this last revision were very few and minor. The main difference seems to be a systematic replacement of the dashes with square brackets.