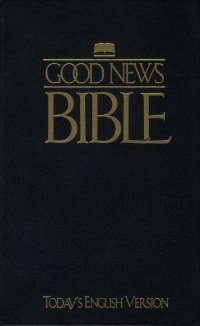 Today's English Version (TEV)
Good News Bible
Highlights
Dynamic equivalence (thought for thought)
Known by many as the Good News Bible or Good News Translation
6th-grade reading level
New Testament was first published in 1966 under the title of Good News for
Modern Man by Dr. Robert Bratcher.
Product Details
Today's English Version is a new translation which seeks to state clearly and portray accurately the meaning of the original texts in words and forms that are widely accepted by people who use English as a language. It attempts to set forth the Biblical content and message in a standard, everyday, natural form of English.
The basic text used in this translation, for the Old Testament, was the Masoretic Text from the Biblica Hebraica, Third Edition. Other ancient versions Greek, Syriac, and Latin were also used at the time. The basic text used for the New Testament was The Greek New Testament, although other Greek manuscripts were also used.
The first task was to understand correctly the meaning of the original text. The next task was to express that meaning in a manner and a form easily understood by readers. Certain features like hours of the day and measures are given in modern equivalents.
The Tetragrammaton is translated as "LORD", in capitals. "Adonai" is followed by "Yahweh", the rendering is "Sovereign Lord".
Early drafts were reviewed by prominent theologians and Biblical scholars. Drafts were also sent to English-speaking Bible societies. The final approval of the text was given by the American Bible Society's Board of Managers upon recommendation of its Translations Department Committee.