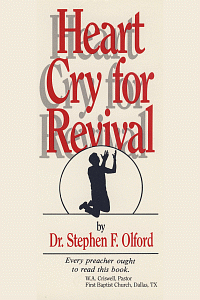 Highlights
This book outlines the many aspects of revival
Great for pastors and preachers
Product Details
Heart Cry for Revival is a book that articulates Stephen Olford's burden for revival and pulsates with prophetic challenge for a vital spiritual awakening in our time. Examples are cited of what takes place in your personal life, the local church and on the mission field when we believe God to send revival. Moving ...heartwarming ... no one who reads these chapters can ever be the same again.
Explore the eight W's of Revival:
The What of Revival
The Who of Revival
The When of Revival
The Why of Revival
The Way of Revival
The Wind of Revival
The Wait of Revival
The Wake of Revival
About the Author

Stephen F. Olford was born in Zambia and was raised in Angola, where he committed his life to Christ and witnessed first-hand the transforming power of God and His Word. He spent his college years in the United Kingdom. After receiving ministry training, Dr. Olford was appointed an Army Scripture Reader during Word War II, and he launched a Young Peoples Christian fellowship in Newport, South Wales.
In 1953, Dr. Olford's years of pastoral ministry began by serving the Duke Street Baptist Church in Richmond, Surrey England, 1953-1959 and then the Calvary Baptist Church in New York City, 1959-1973. He pioneered a Christian TV program, Encounter, in New York, and his Sunday morning services were broadcast around the world on radio.
Dr. Olford moved to Memphis, Tennessee in 1985 to develop a training program and Center to encourage and equip preachers and teachers of God's Word. In 1988 the Stephen Olford Center for Biblical Preaching was dedicated, and it remains the headquarters of Olford Ministries International.
Dr. Olford has received numerous awards, honorary degrees and distinctions. As an ordained Baptist minister and a conservative evangelical by conviction, he ministered across many denominational, cultural, and racial lines. Besides his extensive preaching ministry. He authored numerous books, booklets, and preaching resources. Dr. Olford passed away in the fall of 2004.
Endorsements
Every preacher ought to read this book.