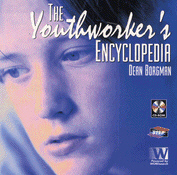 Youthworker's Encyclopedia
Highlights
2,100 Fact Filled Pages
Features over 500 Topics
Unique Product just for Youthworkers
Saves Time to Spend with your Youth
Product Details
Compiled by Dean Borgman of Gordon-Conwell Seminary, this massive database of contemporary culture has just been updated and enlarged! It's now the equivalent of 2,100 fact-filled pages-over twice the content of the first edition. If it were printed, the Youthworker's Encyclopedia would be a book about the size of the Holman Bible Dictionary or the New Unger's Bible Dictionary.
The Youthworker's Encyclopedia puts the insights and data you need for youth ministry at your fingertips. It includes incisive discussions, article and research summaries, Bible references, book reviews, lists of other resources, and practical plans for group discussion. And, it's easy to find xactly what you need using an electronic cross-index of 528 topics. There has never been a time when reaching youth for Christ was more vital or more challenging. This tool will save you time and make you more effective.
About the Author
Professor Dean Borgman is full professor of youth ministries and holds the Culpepper Chair of Youth Ministries at Gordon-Conwell Theological Seminary's urban campus in Boston, Massachusetts. He is also founder and director of the Center for Youth Studies, a national and global network of those interested in the research of adolescence and the youth culture. His areas of expertise include urban and cross-cultural youth ministry and the changing youth culture.
Born in Bridgeport, Connecticut, Professor Borgman earned a Bachelor of Arts in Bible and Theology at Wheaton College and a Master of Arts degree in education at Fairfield University. He did extensive doctoral studies in history, education, philosophy, and theology at Columbia University. At Northeastern University, Professor Borgman received the Certificate of Advanced Graduate Standing in clinical counseling and community psychology. Professor Borgman brings valuable teaching and workshop experience to Gordon-Conwell. He has taught history and social sciences in New Canaan High School and New York City Community College and was instructor of history and chairman of the social sciences division at Cuttington College in Liberia, Africa. For one year he served as the educational director of street academies for the New York Urban League.>
Professor Borgman is best known for his leadership in the area of youth ministries. He was co-leader of a large church youth group in Connecticut and established Young Life in New England before serving several years as a street worker on Manhattan's Lower East Side. There, he established Young Life's Urban Training Institute and became a regional director of Young Life's Metro-East Region. For eight summers during this period, he was a director and speaker for two of Young Life's camps. He worked at integrating Young Life youth into St. Christopher's Episcopal Chapel and served on the Youth Board of the Episcopal Diocese of New York. He has served on the Youth, Urban, and Spiritual Renewal Commissions of the Episcopal Diocese of Massachusetts. He and his wife Gail are co-regional directors for Young Life's International Division in Africa and the Middle East.
For many years, Professor Borgman has taught youth ministry courses at Holy Cross Greek Orthodox Seminary, Fuller Theological Seminary, and Daystar University College in Nairobi, Kenya. For one of his sabbatical years, he taught and studied at the Nairobi Evangelical Graduate School of Theology in Kenya. He has also taught at the Ontario Theological Seminary.
Dean Borgman wrote "A History of American Youth Ministry" for Benson's and Senter's The Complete Book of Youth Ministries. For fifteen years, he has written for the Encyclopedia of Youth Studies (now known as the Youthworker's Encyclopedia). He also wrote for the Center for Youth Studies' journal publication, Implications. His first text, a practical theology for those who care about young people, will be published by Hendrickson Publishers this year. In addition, he has written articles on the youth culture and youth ministry for several magazines.
Professor Borgman and his wife Gail have four children, John, Debbie, Matthew, and Christen, and reside in South Hamilton, Massachusetts.