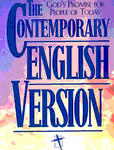 Contemporary English Version (CEV)
God's Promise for People of Today
Highlights
Dynamic Equivalence (thought for thought)
Includes Mini-Dictionary
Product Details
Traditional translations of the Bible count on the reader's ability to understand a written text. But the Contemporary English Version differs from all other English Bibles—past and present—in that it takes into consideration the needs of the "hearer", as well as those of the "reader", who may not be familiar with traditional Biblical language.
Dr. Barclay M. Newman, Ph.D., Southern Baptist Theological Seminary, is a biblical scholar with several decades of experience as a United Bible Societies Translation Consultant in the Asia Pacific region. He planned and organized the Contemporary English Version project with the aid of Dr. Eugene A. Nida, a Special Consultant to the American Bible Society. Beginning in 1984, Dr. Newman carried out research in preparation for this project and initiated the translation work that ensued. Throughout the next decade he guided the overall project to its publication targets, with the New Testament appearing in 1991, the Psalms and Proverbs in 1992, and the Contemporary English Version in 1995. An edition of the Bible with the Deuterocanonicals/Apocrypha was published in 1998. The rest of the Contemporary English Version team consisted of Dr. Donald A. Johns, Ph.D., St. Louis University, Dr. Steven W. Berneking, Ph.D., Union Theological Seminary, and Mrs. M. Jean Newman, who has served as editorial associate throughout the project.
In order to assure the accuracy of the Contempary English Version, the New Testament was translated directly from the Greek text and the Old Testament was translated directly from the Masoretic Hebrew text printed in Biblia Hebraica Stuttgartensia, fourth edition, 1990.
Translation Principals and Features
In translating the Contempary English Version, translators followed three translation principles. They were:
Must be understood by people without stumbling in speech
Must be understood by those with little or no comprehension of Bible language
Must be understood by all