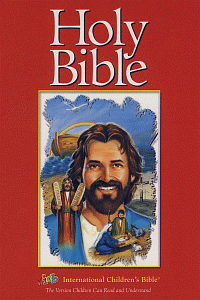 International Children's Bible (ICB)
The Version Children Can Read and Understand
Highlights
Easy-to-Read Translation
Children's Dictionary/index with more than 200 entries
Product Details
The International Children's Bible is not a storybook or a paraphrased Bible. It is a translation of God's Word from the original Hebrew and Greek languages. Twenty-one trusted Bible scholars carefully selected words at a third grade reading level. The International Children's Bible is the first translation of the Holy Scriptures prepared specifically for children. Until now children have had to learn God's truths either from Bible storybooks or adult-language Bibles. Many words and concepts, readily understood by adults, may leave children mystified or even with false impressions.
Yet, God intended for everyone to be able to understand his Word. Even Jesus, the Master Teacher, taught spiritual principles by comparing them to such familiar terms as pearls, seeds, rocks, trees and sheep. It is for this same purpose of making the Scriptures intelligible, even to children, that this translation was created.
Endorsements
Jesus asked the little ones to come to Him, and the International Children's Bible makes it a little easier for them to hear His call.