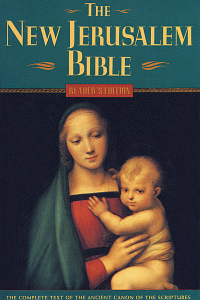 New Jerusalem Bible (NJB)
Reader's Edition
Highlights
Dynamic equivalence (thought for thought)
Contains the Deuterocanonical books
Product Details
This Reader's Edition of The New Jerusalem Bible is based on the much larger Regular Edition first published in 1985. While the biblical text remains unchanged, the notes and introductory material have been pared to make the volume more accessible and manageable. The index of Personal Names and the Chronological Table at the end have been simplified. A new help has, however been added, in the form of a Theological Glossary, thus providing a sort of mini-concordance.
The translation follows the original Hebrew, Aramaic and Greek texts. For the Old Testament the Masoretic Text, is used. Only when this presents insuperable difficulties have other versions, such as the Septuagint, been used. In certain Old Testament books passages exist only in the Septuagint version; these passages have been printed in italics. Italics are used also, and in the New Testament exclusively, to indicate quotations from other books of the Bible.
The work of many devoted scholars has contributed to this Bible: those who produced the parent Bible de Jerusalem, in 1956, the collaborators on the first English Jerusalem Bible, in 1966, the revisers of the Bible de Jerusalem, in 1973, and those who combined to produce the Regular Edition of The New Jerusalem Bible, in 1985.
Endorsements
The best of modern translations