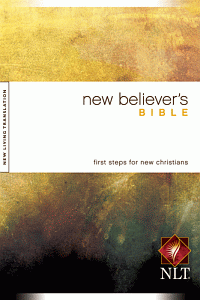 New Believer's Bible
First Steps for New Christians
Highlights
Based on the New Living Translation
Created just for New Believers in the Faith
Includes helps like; First Steps, Off and Running, Big Questions, Glossary of Christian Terms
Product Details
Featuring notes written by leading evangelist Greg Laurie, the New Believer's Bible is designed to help new Christians understand and grow in their newfound faith.
Here are some of the features of this Bible:
Four Feature Tracks - instruct and encourage readers in the Christian faith. Cornerstones covers the basics of Christian belief. Readers learn about the Trinity, angels, satan, heaven, love, and other essential teachings of the Bible
First Steps - helps readers know God and His plan for them. Readers discover how to know they are saved, find the right church, study the Bible, and much more
Off and Running - shows readers how they can enjoy God's blessings and direction in all areas of their life such as career, marriage, family, finances, etc.
Big Questions - tackles difficult questions often asked by new Christians like "Why do bad things happen to good people?"
How You Can Know God - is a clear gospel presentation that explains to readers how they can be saved
Glossary of Christian Terms - explains key biblical and doctrinal terminology in easy-to-understand language
Special Charts - highlight important biblical information: 52 Great Bible Stories, Prophecies about Jesus, Memory Verses, How to Study the Bible, and Overview of the Bible
About the Author

Greg Laurie, born in 1952, serves as the senior pastor of the Harvest Christian Fellowship, a Calvary Chapel, in Riverside, California. He became a Christian under the ministry of Pentecostal evangelist Lonnie Frisbee at Newport Harbor High School. Then, at the age of 19, he had the opportunity to lead a Bible-study of 30 people originally started by Frisbee at All Saints Episcopal Church in Riverside, California.
Laurie holds two honorary doctorates from Biola University and Azusa Pacific University, although his formal education ceased at high school. He serves on the boards of directors for the Billy Graham Evangelistic Association and for Samaritan's Purse.
Laurie has written several books, including The Upside-Down Church, co-authored with David Kopp: the book won a Gold Medallion Book Award in the "Christian ministry'in 2000, Every Day with Jesus, and Wrestling with God. As host of the television program Knowing God with Greg Laurie and of the syndicated radio program A New Beginning, Laurie has appeared on ABC World News Tonight, Fox News, MSNBC, and CNN. He also functions as a guest commentator at Worldnetdaily.com, and appears regularly on the Trinity Broadcasting Network.
Laurie also founded and features as a speaker for public evangelistic events called Harvest Crusades — large-scale evangelistic outreach projects which local churches organize nationally and internationally. Well over three million people have attended Harvest Crusades in California, Seattle, Oregon, Philadelphia, New York, Hawaii, Florida, North Carolina, New Zealand and Australia.
Endorsements
Greg Laurie raises the big questions like what is the meaning of life? What happens after I die? Why am I here?
Greg Laurie appeals to young people because his crusades are informal and straightforward
Greg Laurie's style is a blend of direct, evangelistic appeal of Billy Graham, and a contemporary hyper-current delivery.
I don't know a greater preacher in America than Greg Laurie.