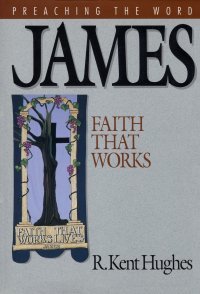 Preaching the Word - James
Faith That Works
Highlights
Noted for its commitment to Biblical authority
Clear exposition of scripture
Practical Application
Product Details
The epistle of James is perhaps the most practical—and most convicting—book of the entire New Testament. It is a marvelous exposition of the outworking of genuine Christian faith. True faith works!
In this sixth volume of the Preaching the Word series, Pastor Hughes combines relevant discussion with practical application of the book of James. Major themes include:
Joyful endurance in times of trial
True wisdom
Recognizing and resisting temptation in a tempting world
Beyond knowing the Word of God: doing
The telltale signs of real faith
Perils of the tongue
Humility and grace
The divine prescription for healing
The prayer of the righteous
A marvelous commentary on a Bible book which is dangerous to read or study—it changes one's life! Like the earlier members of this series, this volume will challenge and equip preachers/teachers and their hearers for wise ministry for Christ founded on faith that works.
About the Author

R. Kent Hughes, Senior Pastor Emeritus of College Church in Wheaton, Illinois, earned his DMin from Trinity Evangelical Divinity School. He has authored numerous books for Crossway, including a number of volumes in the popular Preaching the Word series. He is also the series editor.
Endorsements
This series will minister to a pastor's soul as well as give him an immense resource for his preaching. And it will minister to the parishioner wonderfully in personal Bible study. The reader will be filled with fresh thoughts about our Lord as well as joyful encouragement for himself. That is what happened to me in reading this.
The Preaching the Word Commentary is one of my favorites. The focus upon explaining the text with preaching it as the goal makes the series resonate with the priorities of the pulpit. No academic aloofness here, but down-to-earth, preacher meat for God's people.
The single best resource for faithful biblical exposition today. A great boon for genuine reformation!
Throughout the Christian centuries, from Chrysostom and Augustine through Luther, Calvin, and Matthew Henry, to Martyn Lloyd-Jones and Ray Stedman, working pastors have been proving themselves to be the best of all Bible expositors. Kent Hughes stands in this great tradition, and his exciting expositions uphold it worthily.