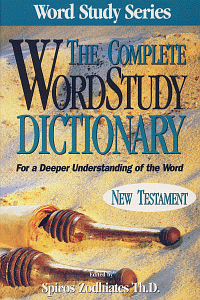 The Complete Word Study Dictionary - New Testament
For a Deeper Understanding of the Word
Highlights
Non-technical Dictionary
Definitions keyed to Strong's numbering system
Covers every word used in the New Testament
Product Details
The Complete Word Study Dictionary: New Testament is a wonderful tool for anyone interested in studying the words of the New Testament. This monumental work is the result of 46 years of research by the editor, Dr. Spiros Zodhiates.
The dictionary offers definitions and explanations for every word used in the Greek New Testament. Each entry is identified by a number from Strong's Greek Dictionary, so that readers can make great use of the information that is given about each word, even if they have no working knowledge of the Greek language.
While no book can replace the insight that can be gained by a formal study of the Greek language, how many people will ever study Greek, or how many who have studied it in the past have forgotten some of what they learned? As you read the entries in this dictionary, the idiom and nuance of the original Greek text will open up before you, and you will arrive at a deeper understanding of God's Word.
Key features include:
Derivation
Etymology (Word History)
Exegetical Commentary
Synonym, Antonym and Derivative Lists
About the Author/Editor Spiros Zodhiates was born to Greek parents on the island of Cyprus in 1922. After completing his Greek education, he attended the American University in Cairo, Egypt, The National Bible Institute (now Shelton College), and New York University. He earned his Doctor of Theology degree from Luther Rice Seminary. In addition, Dr. Zodhiates has been the recipient of several honorary doctorates.
In 1946, he came to the United States at the invitation of the American Committee for the Evangelization of the Greeks. At that time, there were two part-time employees who met in a small, one-room office. Dr. Zodhiates became president of this organization in 1966. Now known as AMG International ('Advancing the Ministries of the Gospel'), it carries on a worldwide evangelistic and relief ministry with its headquarters located in Chattanooga, Tennessee.
Dr. Zodhiates is a recognized authority on the Greek New Testament, and has edited an edition of the Modern Greek New Testament that was published by the Million Testaments Campaign and the American Bible Society. He is the author of numerous exegetical books and booklets in both the Greek and English languages. In addition, he was heard daily on the New Testament Light radio program, released over a network of stations across the United States and Canada.
After suffering numerous health problems in the late 1990s, Zodhiates transitioned out of active work, though many of his commentary manuscripts are still being edited and published, and his radio and television recordings are being redistributed digitally. He died in Chattanooga on October 10, 2009.
Endorsements
I don't know what I'd do without Word Study resources from AMG Publishers. They are my way of constantly attending seminary while staying put in my office to write Bible studies. In a nutshell, AMG makes me smarter than I am.