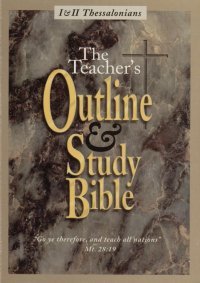 Teacher's Outline and Study Bible: 1 and 2 Thessalonians
Product Details
If you teach a Bible study group, The Teacher's Outline & Study Bible is just for you. You'll love the ease of use and solid Bible-based teaching. Each volume contains 4 months of weekly lessons, 35-45 minutes in length.
The Teacher's Outline and Study Bible features:
Bible Outlines - All scripture outlined, verse by verse, highlighting the main points of the passage.
Inspiring Commentary - Practical commentary on each verse and point makes it easier to teach and understand.
Study Questions - Thought-provoking questions draw your students into the lesson at their need level.
Illustrations - Insightful illustrations uphold the principles of Scripture.
Applications - Real-life application of the Scripture promotes spiritual growth
Summaries - Lesson summary brings it all together and helps you restate the points your students need to remember most.