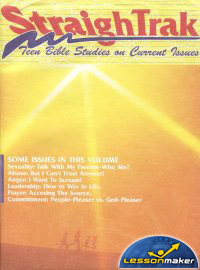 Straightrak
Teen Bible Studies on Current Issues
Highlights
Features 200 cutting edge youth Bible studies
Product Details
StraighTrak: Teen Bible Studies on Current Issues features 200 cutting edge youth Bible studies from LifeWay Christian Resources. Used by over 20,000 teens weekly, StraighTrak cuts right to the core of the teen experience to provide a Christian perspective of issues the kids are dealing with TODAY. Even an inexperienced Youthworker can easily use StraighTrak to create a fresh and exciting Bible study in about an hour.
Contains everything that you need for involving youth (designed for eighth grade through twelfth grade) in 200 undated week time Bible study experiences of 60 minutes each.
Includes StraighTrak volumes 1-20 each with 10 timely, relevant Bible studies covering hot topics that teens confront in their daily lives.
Includes easy-to-use teaching plans, reproducible student handouts and skits.
Written by youthworkers, pastors, parents and teens all working together to create topics and lessons that are important to youth.
Incredibly wide range of topics including: Integrity, Materialism, Relationships, Sharing Your Faith, Biblical Self-Identity, Personal Faith, Dating, Instant Gratification, Prayer, AIDS, Abortion, Myths About Money, Violence and Gangs, True Lies, Anger Management and more!