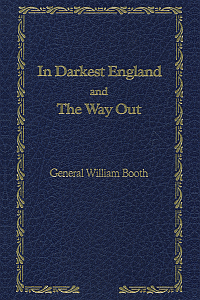 In Darkest England and the Way Out
Highlights
Chronicles the founding of the Salvation Army in England
Historical account of the poverty in the late 1800's
Essential for any Salvationist
Product Details
Explore the heritage of the Salvation Army with this classic work by General William Booth as he pursues God's desire for Christian service in 19th century England. This insightful work is certain to challenge and inspire Christians moving into the 21st century.
About the Author:
William Booth was born in Nottingham in 1829. At the age of 13 he was sent to work as an apprentice in a pawnbroker's shop to help support his mother and sisters. He did not enjoy his job but it made him only too aware of the poverty in which people lived and how they suffered humiliation and degradation because of it. During his teenage years he became a Christian and spent much of his spare time trying to persuade other people to become Christians too.
When his apprenticeship was completed he moved to London, again to work in the pawnbroking trade. He joined up with the local Methodist Church and later decided to become a minister.
After his marriage to Catherine Mumford in 1855 he spent several years as a Methodist minister, traveling all around the country, preaching and sharing God's word to all who would listen. Yet he felt that God wanted more from him, that he should be doing more to reach ordinary people. He returned to London with his family, having resigned his position as a Methodist minister.
One day in 1865 he found himself in the East End of London, preaching to crowds of people in the streets. Outside the Blind Beggar pub some missioners heard him speaking and were so impressed by his powerful preaching that they asked him to lead a series of meetings they were holding in a large tent.
The tent was situated on an old Quaker burial ground on Mile End waste in Whitechapel. The date for the first meeting was set for 2 July, 1865. To the poor and wretched of London's East End, Booth brought the good news of Jesus Christ and his love for all men. Booth soon realized he had found his destiny. He formed his own movement, which he called 'The Christian Mission'.
In 1878 the name of the organization was changed to The Salvation Army. He and the other soldiers in God's Army would wear the Army's own uniform, 'putting on the armour,' for meetings and ministry work. Booth became the first "General" and official founder of the Salvation Army.
Though the early years were lean ones, with the need of money to help the needy an ever growing issue, Booth and The Salvation Army persevered. In the early 1880s, operations were extended to other countries, notably the United States, France, Switzerland, Sweden and others, including to most of the countries of the British Empire: Australia, Canada, India, South Africa, New Zealand, Jamaica, etc.
During his lifetime, William Booth established Army work in 58 countries and colonies, traveling extensively and holding, "salvation meetings." He regularly published a magazine and was the author of a number of books; he also composed several songs. His book In Darkest England and the Way Out not only became a best-seller after its 1890 release, it set the foundation for the Army's modern social welfare plans. Booth's ultimate aim was to get people, "saved."
In his later years, he was received in audience by kings, emperors and presidents, who were among his ardent admirers. In 1899, Booth suffered from blindness in both eyes, but with a short rest, was able to recover his sight. Later in 1899, he had to have his right eye removed and had a cataract in his left eye. William Booth was 83 years old when he died, in Hadley Wood, London. He was buried with his wife in the main London burial ground at Abney Park Cemetery in Stoke Newington.