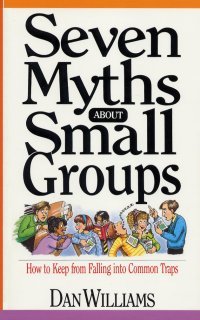 Seven Myths About Small Groups
How to Keep from Falling into Common Traps
Highlights
Discusses the seven most common problems most groups face
Contains practical guidelines to address these issues
Product Details
Do you ask yourself: Is your small group boring? Small groups don't just happen they take a lot of work and effort. In Seven Myths About Small Groups, Dan Williams addresses the myths of small group life:
Groups should not last forever
Groups should not be Cliques
Bigger is Better
Groups need strong leadership
More members should lead
Good groups are polite
Mission must wait
Your small group can be a place where people feel good. Small groups can a play a crucial role in the spiritual growth of individuals and the development of the Church as a whole. Why not use this valuable tool to help you revitalize your group?
About the Author
Daniel G. Williams earned his ThM from Regent College in Vancouver, B.C. in 1991. He has authored several books including: 1 Corinthians: The Challenges of Life Together and co-written with Paul Stevens, Revised Edition, Starting (& Ending) a Small Group: For Leaders & Group Members.