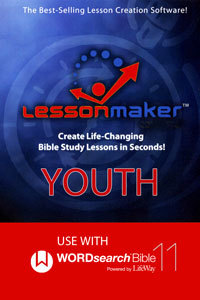 Highlights
For use in Wordsearch 11 & 12
Product Details
Prepare a dynamic Bible study on any hot youth topic in minutes with Youth Meeting Kits. This is an easy-to-use tool that will help you spend less time preparing to meet with teens, and more time actually meeting with them!
The Youth Meeting Kits offers you many features like:
A Collection of 15 to 25 exercises or activities grouped into categories of "starters," "discussions," "challenges," and "extras"
Lists of related scripture for each lesson
Book introductions that provide excellent overviews and helpful background information
Book outlines that reveal each Bible book's structure and help you plan your lessons
Select lessons by passage or by 150 hot youth topics
About the Author
Dave Veerman worked for twenty-six years with Youth for Christ before forming The Livingstone Corporation in 1988 with Bruce Barton, a company devoted to helping Christians and Christian organizations improve ministry effectiveness. He served as a senior editor of the Life Application Bible and has written nearly forty books, including Understanding Your Teenager, Tough Parents for Tough Times, Parenting Passages, and Dads That Make a Difference. He currently presents Understanding Your Teenager seminars across the country. Dave holds a M.Div from Trinity Evangelical Divinity School.