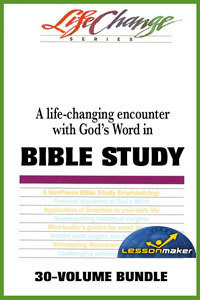 LifeChange Series
A Life-Changing Encounter from God's Word
This title works with the following Wordsearch products
Desktop
Highlights
Contains 30 Bible Study guides with over 450 lessons
"How to study" suggestions, a guide to additional study aids, and 10 to 20 lesson kits
Each book has enough material for a semester Bible study
Lesson kits include commentary, thoughts for discussion, study skills, optional applications, ideas for further study, ideas for group, and 10 to 20 discussion questions
Scene-setting historical insights
Mini-leaders guides for small groups
Challenging optional projects
LESSONmaker compatible in Wordsearch 11
Product Details
The LifeChange Series is a fun and engaging way to study the Bible alone or with a group of any size, and lives will change as people draw closer to Christ. The 450 lessons included each contain enough material for a 60-90 minute study, plus plenty more for when you choose to dig even deeper.
Here's What Makes the LifeChange Series So Valuable:
Each lesson in the LifeChange Series directs a laser-like focus on the specific passage of Scripture you choose. Each Bible book begins with an overview to give you a feel for the time and setting. Following this is a thorough discussion of the Bible text that is packed with relevant questions that challenge you to dig deeper and uncover biblical truths. You'll also find a section called Sidebars with more detailed discussion questions that take you even further into the Bible text (if time allows). Each lesson also contains a For the Group section filled with advice and activities for using this lesson within a group setting. You'll also discover lots of practical applications for applying these lessons to your personal life. Included are maps that illustrate areas of discussion, and Wordsearch makes it easy for you to print these maps, questions, and lessons to use as handouts. The aim of each lesson is to transform us into the image of Christ.
Topical Hyperlinks Take You Anywhere in Your Digital Library
Each lesson displays a list of hyperlinked topical references. Whatever topic you find in Bible study, you'll discover that topic always has a few related references that can be further pursued in other passages and study tools. For example, you might be studying John 6 where Jesus talks about being the "Bread of Life." Your list of topical links will display "Bread of Life," "True Bread," "Miraculous Signs," and a dozen other related topics. Click on any of these links and Wordsearch will search your digital library and show you all the other books you own that have something to say about this topic. It's an easy way to deepen your studies.
The LifeChange Series Is LESSONmaker Compatible in Wordsearch 11!
LESSON
maker
makes any lesson even more powerful because of the access to additional discussion questions and material found in your digital library. But even if you don't have WS11, the
LifeChange Series
is fully functional for group study. Simply print out each lesson, which is nicely formatted for group handouts.
Includes Studies of These Books:
| | | |
| --- | --- | --- |
| Old Testament | New Testament | |
| Genesis | Matthew | 1 Thessalonians |
| Exodus | Mark | 2 Thessalonians |
| Joshua | Luke | 1 Timothy |
| Ruth & Esther | John | 2 Timothy |
| 1 Samuel | Acts | Titus |
| Proverbs | Romans | Hebrews |
| Isaiah | 1 Corinthians | James |
| | 2 Corinthians | 1 Peter |
| | Galatians | 2 Peter and Jude |
| | Ephesians | 1, 2, 3 John |
| | Philippians | Revelation |
| | Colossians & Philemon | |
Check out a sample by clicking on the yellow Sample button underneath the book cover image.