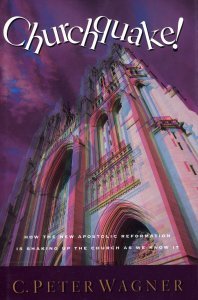 Churchquake!
How the New Apostolic Reformation Is Shaking Up the Church As We Know It
Product Details
The greatest shake-up in the church since the Protestant Reformation, the new apostolic reformation is an extraordinary work of God that is changing the shape of Christianity around the world. Learn how God is raising up alliances of non-denominational churches and leaders worldwide to help fulfill the Great Commission.
About the Author
C Peter Wagner is widely recognized as an authority in the fields of evangelism and spiritual warfare. The author of more than 30 books, including Engaging the Enemy, Wrestling with Dark Angels, and How to Have a Healing Ministry in Any Church. Dr. Wagner is also Professor of Church Growth at Fuller Theological Seminary, School of World Missions.
Endorsements
Churchquake! reveals God's plan for a new model of Church in the 21st century - a model to help us fulfill the Great Commission in our lifetime, I recommend this book highly.