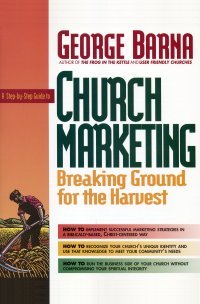 Church Marketing
Breaking Ground for the Harvest
Highlights
A Step-By-Step Guide
Presents key concepts for the development of a marketing plan
Product Details
Although the word "marketing" never appears in the Bible, the Bible is filled with examples of successful marketers: Solomon, Joshua, Nehemiah and Paul, just to name a few. As you'll see in this book, these dynamic men of God had the ability to identify people's needs and then find the best ways to meet them. Jesus told his followers to do the same — bring His message to people in a way they could understand and relate to.
That's the heart of marketing. And those principles can be immensely useful as you take part in God's work here on earth. It's time to move beyond the question of whether or not marketing is a biblical practice — the real question is whether your church can afford not to use such a powerful and readily available tool.
About the Author

George Barna is a popular speaker at ministry conferences around the world and has taught at Pepperdine and Biola Universities and several seminaries. Barna served as a pastor of a large, multi-ethnic church and has been involved in several church start-ups. Since 2005, he has been leading a house church. After graduating summa cum laude from Boston College, Barna earned two Master's degrees from Rutgers University. At Rutgers, he was awarded the Eagleton Fellowship. He also received a doctorate from Dallas Baptist University.
A native New Yorker, George Barna has filled executive roles in politics, marketing, advertising, media, research and ministry. He founded the Barna Research Group (now The Barna Group) in 1984 and helped it become the nation's leading marketing research firm focused on the intersection of faith and culture. The company has served several hundred parachurch ministries and thousands of Christian churches throughout the country. It has also supplied research to numerous corporations and non-profit organizations, as well as to the U.S. Navy and U.S. Army.
To date, Barna has written 41 books, mostly addressing leadership, trends, church health and spiritual development. They include best-sellers such as Revolution, Transforming Children Into Spiritual Champions, The Frog in the Kettle, The Power of Vision and User Friendly Churches. Several of his books have received national awards. He has had more than 100 articles published in periodicals and writes a bi-weekly research report (The Barna Update) accessed by more than a million people each year.