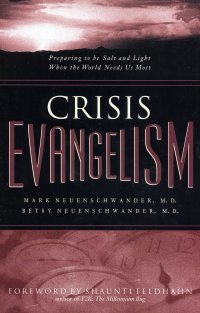 Crisis Evangelism
Preparing to Be Salt and Light When the World Needs Us Most
Product Details
Jesus predicted wars, plagues, famine, pestilence and earthquakes as signs of the end-time harvest. So how is the Church supposed to respond in the wake of the coming calamities and crises? This remarkable book shows in detail how our service and witness can effectively spread the light of the gospel to the world in its darkest hour.
About the Authors
Dr. Mark Neuenschwander and Dr. Betsy Neuenschwander are both board certified surgeons and family physicians. They have been full time missionaries to forty-one nations since 1986. They lead the AD2000 Crisis Relief Task Force, a conservative Christian humanitarian effort based in Colorado Springs, Colorado. They also lead the U.S. Spiritual Warfare Task Force for Professionals. They have established a noodle factory in North Korea which feeds 5,000 daily.
In 1995, during the height of the Rwanda crisis, Mark & Betsy, serving in the International Health Services Foundation, received a vision from God to raise up disaster relief teams across the world. They visited Malaysia and conducted 3 consecutive Disaster Relief Schools in 1995, 1996 and 1997.
From these training schools, a group of graduates received God's call to establish a disaster relief organization in Asia. On 3rd December 1998, CREST was birthed. Now, CREST serves in countries across Asia and takes on the mantle to train more relief volunteers in our Disaster Relief Schools in Malaysia.