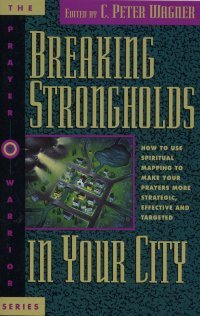 Breaking Strongholds in Your City
How to Use Spiritual Mapping to Make Your Prayers More Strategic, Effective and Targeted
Highlights
Book three in the Prayer Warrior Series
Product Details
Take a moment to look around your community-the parks, the malls, the key point of interest. Look at downtown, the uptown, the back alleys and across the tracks. What are the institutions that dominate the life of the your city? Do they glorify God? Or is your city infiltrated by pockets of idolatry and corruption?
You can bring light to the darkest parts of your community by breaking down the enemy's strongholds through prayer. Finding solid information will ensure that your prayer is on-target and much more effective. Breaking Strongholds in Your City shows you how to pray against these dark strongholds- making it perfect for pastors, church leaders and intercessors at every level.
About the Editor:
Charles Peter Wagner received his B.S. at Rutgers University, 1952; M.Div. at Fuller Theological Seminary, 1955; Th.M. at Princeton Theological Seminary, 1962; M.A. at Fuller Seminary School of World Mission, 1968 and his Ph.D. at the University of Southern California in 1977. From 1956-1971 the Wagners were missionaries with the South American Mission and Andes Evangelical Mission where they ministered in Bolivia.
In 1971 Wagner became a professor of Church Growth at the School of Intercultural Studies, a part of Fuller Theological Seminary. He and Donald McGavran established the school as a popular and influential organization within the Evangelical, Pentecostal and Charismatic movements internationally. In 1981 Wagner replaced McGavran as head of the faculty. Wagner retired from his position there in 1998 to focus on his own areas of ministry.
In 1982 Wagner teamed up with John Wimber, a founder of the Vineyard Movement, to create a new course at Fuller called "Signs, Wonders and Church Growth". Since that point, Wagner has been formally associated with Charismatic teaching and theology. Wagner describes himself as a Charismatic Evangelical. During the 1990s he also taught a Sunday School class with a strong focus on the charismatic gifts, known as "120 Fellowship", at Lake Avenue Church in Pasadena, California.
Wagner is the founder of Global Harvest Ministries, and co-founder of the World Prayer Center. Wagner and his wife, Doris, live in Colorado Springs and since 2006 they have attended Dutch Sheet's "Freedom Church". Wagner is the author of more than 30 books, including Engaging the Enemy, Wrestling with Dark Angels, and How to Have a Healing Ministry in Any Church.