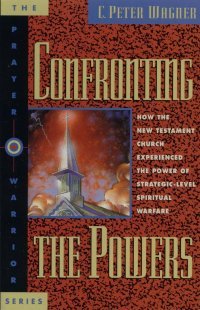 Confronting the Powers
How the New Testament Church Experienced the Power of Strategic-Level Spiritual Warfare
Highlights
Part of the Prayer Warrior Series
Product Details
To date, C. Peter Wagner's first four books in the "Prayer Warrior" series have sold nearly 200,000 copies. This series has proven to be among the most significant book series on prayer published in the 1990s. Now, in this fifth book in the series, Wagner examines the New Testament evidence for strategic-level spiritual warfare. This is vintage Wagner: excellent scholarship, inspirational stories of prayer warriors from across the globe, and most importantly, strong biblical evidence supporting the place and purpose of spiritual warfare for today's Church. In Confronting the Powers, the reader will learn the schemes of the enemy and how to overcome him in order to advance the Kingdom of God.
About the Author
C Peter Wagner is widely recognized as an authority in the fields of evangelism and spiritual warfare. The author of more than 30 books, including Engaging the Enemy, Wrestling with Dark Angels, and How to Have a Healing Ministry in Any Church. Dr. Wagner is also Professor of Church Growth at Fuller Theological Seminary, School of World Missions.
Endorsements
Confronting the Powers is certain to stir discerning faith and awaken impassioned intercession.
Everyone owes it his or her integrity to examine this book.