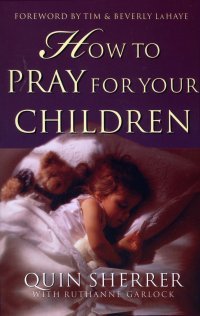 How to Pray for Your Children
Product Details
What are your hopes for your children? That they'll become strong Christians? That they'll be able to resist the temptations around them? Whatever your concerns for them, whatever their age or present condition, there is hope. Based on the prayer experiences of parents around the world, this book will challenge, inspire, and encourage you to persevere in prayer for your children.
About the Authors:
Quin Sherrer earned her B.S. degree in Journalism from Florida State University and attended Bible School classes in Dallas. Her long time passion has been to teach Christians how to pray more effectively through practical, biblical and sometimes humorous insights she has gained from her personal life experiences and from the thousands of people she has interviewed.
Quin has written several books including: A Woman's Guide to Spiritual Warfare, Miracles Happen When You Pray and Lord, Help Me Break This Habit—You Can Be Free from Doing the Things You Hate.
She has appeared on more than 300 radio and television programs including the 700 Club, TBN, and Daystar. Her travels in 48 states and 12 nations have provided rich material for her books and talks. Several of her books have been translated into other languages while others have been reprinted and distributed by book clubs, including Crossings Books and Guideposts.
Serving on the International and U.S. board of directors for Women's Aglow Fellowship helped equip Quin to teach leadership seminars. Quin delights in helping believers apply biblical promises to every area of their lives when speaking at international conferences, church women's groups, leadership seminars, and to U.S. military and church congregations both in the U.S. and abroad. She has also been a guest speaker at Christ for the Nations Institute in Dallas.
Ruthanne Garlock, author and Bible teacher, lives near San Antonio, Texas. With her late husband, John, she served a Bible school in Brussels, Belgium, and taught seminars in the U.S. and more than 35 countries on five continents. Garlock continues to travel and teach in the U.S. and abroad and is president of Garlock Ministries, Inc. The primary goal of this ministry has been to "make disciples" by teaching leaders and ministers-in-training to effectively share the Gospel in their own communities. These leaders are then encouraged to plant churches and teach and train other disciples within those communities.
Endorsements
How to Pray for Your Children is written primarily to mothers, but fathers also face the challenge of praying for their children at all stages of their lives. Men will find here a wealth of ideas and inspiration for fulfilling their godly role as a father.
An insightful, practical and encouraging book. How to Pray For Your Children provides guidance and support we all need to raise children in this world. It can change the direction of your prayers for everyone.