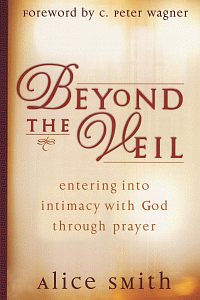 Beyond the Veil
Entering into intimacy with God through prayer
Product Details
Beyond the Veil shows how you can break down the walls and move from stagnancy to vibrancy in your prayer life. As a self-published title, this book sold 17,000 copies in a year--with no distribution channels, simply by word-of -mouth and limited newsletter exposure. Intimate intercession is something we all yearn for but--admittedly--rarely achieve. In a loving, clear way, Alice Smith walks us into God's very presence by showing us how to slow down and catch up with our loving Father.
About the Author
Alice Smith is co-founder and executive director of the U.S. Prayer Center in Houston, Texas. She is a member of America's National Prayer Committee, the International Reconciliation Coalition, and the International Strategic Prayer Network. Alice has earned her Doctorate of Ministry from Wagner Leadership Institute in Colorado Springs, Colorado.
Alice's first calling is to intercessory prayer and to represent a life of integrity and transparency to the body of Christ. She has always been willing to go minister to the masses of people or even to the few. She and her husband, Eddie, travel each year to preach and serve people worldwide, as well as the Christians in the United States. Alice conducts seminars, retreats and conferences on a variety of subjects including intercessory prayer, spiritual intimacy, personal freedom, spiritual warfare, and spiritual mapping.
She is a regular contributor to Charisma, Ministries Today, Spirit-Led Woman, and Pray! magazines. Alice is a regular guest on CBN's 700 Club, and an occasional guest on Benny Hinn's, This is Your Day. She is the editor of Insight, a weekly teaching email newsletter that goes to thousands of praying Christians in more than 70 nations. In addition, she and Eddie offer a 52-week free Internet course on prayer that serves to train Christians worldwide who have few resources.
Alice Smith is an internationally-known conference speaker, and the author of the best-selling books including:40-Days Beyond the Veil: Experience Daily Encounters of Divine Intimacy, Beyond the Lie: Finding Freedom from Your Past, and her newest books Delivering The Captives: Understanding The Strongman - And How to Defeat Him, Spiritual Intimacy: Moving Joyfully into the Deeper Life.
Endorsements
Beyond the Veil is an absolutely must for the intercessory ministry. Read it.
Alice Smith's Beyond the Veil will transform your life.