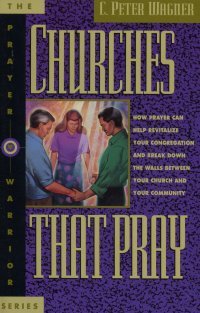 Churches That Pray
How Prayer Can Help Revitalize Your Congregation and Break Down the Walls Between Your Church and Your Community
Highlights
From the Prayer Warrior Series
Product Details
C. Peter Wagner explains how prayer can help revitalize your congregation and break down the walls between your church and your community.
About the Author
C Peter Wagner is widely recognized as an authority in the fields of evangelism and spiritual warfare. The author of more than 30 books, including Engaging the Enemy, Wrestling with Dark Angels, and How to Have a Healing Ministry in Any Church. Dr. Wagner is also Professor of Church Growth at Fuller Theological Seminary, School of World Missions.
Endorsements
Revival will come when we get the walls down between the church and the community.