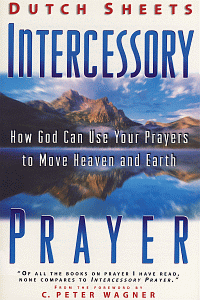 Intercessory Prayer
How God Can Use Your Prayers to Move Heaven and Earth
Product Details
Gifted Bible teacher, Dutch Sheets, brings clear and startling revelation on the power of prayer and the role of intercession. Dutch unwraps the mystery of intercessory prayer, revealing our role as God's partners in His work. Have you ever wondered if your prayers really count? Or why you never seem to get any answers? If so, then Intercessory Prayer will convince you that your prayers can, indeed, move heaven and earth.
About the Author
Dutch Sheets received his theology degree from Christ for the Nations Institute in Dallas, Texas. Dutch has traveled extensively, teaching throughout the United Stated, Canada, Central America, Africa and much of Europe. Dutch serves as Senior Leader at Freedom Church in Colorado. He founded both Dutch Sheets Ministries and the United States Alliance for Reformation as venues to sound a clarion call to the body of Christ. In addition, he is a well-established author of books including: Intercessory Prayer and Roll Away Your Stone.
Endorsements
Of all the books on prayer I have read none compares to Intercessory prayer
Intercessory Prayer is illuminating and motivating. Dutch Sheets sheds fascinating light on this sometimes mysterious subject. Readers will want to pray more, and they will see more results.
Every praying Christian and intercessor should read this book! Intercessory Prayer will revolutionize your prayer life. It contains a depth of revelation found in no other book on intercession.