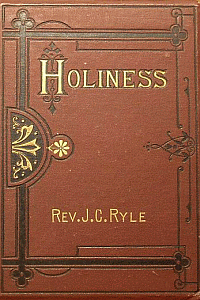 Holiness
Its Nature, Hindrances, Difficulties, and Roots
Highlights
An evangelical classic
Gives 13 clear distinctions between sanctification and justification
Expository in style, deep in context, yet easy to understand
Product Details
In this classic work, Bishop J.C. Ryle thoroughly examines the topic of Holiness, in an easy to understand, devotional style. You can discover the true meaning of Biblical Holiness, not the superfluous ideals than many people mistake as Holiness, after Ryle illuminates the scriptures with his unique expository style.
About the Author
On May 10, 1816, John Charles Ryle was born to John And Susanna Ryle of Macclesfield, Cheshire County, England. He attended Eton College and then went on to the University of Oxford, finishing his Oxford studies in 1837.
In December 1841, Bishop Charles Sumner of Winchester ordained J. C Ryle as a minister in the Anglican Church, (Church of England). He was made Rector of the Church of St. Thomas in Winchester; from there he moved to the parish of Helmingham in Hampshire, serving three years; and then he served thirty-six years in Suffolk. In 1880, Ryle was named the First Bishop of the newly constituted diocese of Liverpool.
Throughout his ministry he became known and beloved as a defender of the evangelical reformed faith as expressed in the Thirty-nine Articles of Religion, of the Church of England.
Some of the best known titles written by Bishop Ryle are: Holiness, Expository Thoughts on the Gospels, Practical Religion, Warnings To the Churches, and Old Paths. In addition he published nearly 100 tracts.
In February, 1900, the at the age of 83, Ryle retired after many years of faithful ministry. Months later he went home to be the Lord on June 10, 1900.
Endorsements
Ryle, like his great masters, has no easy way to holiness to offer us, and no 'patent' method by which it can be obtained; but he invariably produces that 'hunger and thirst after righteousness' which is the only indispensable condition to being 'filled'
Bishop Ryle is an evangelical champion . . . One of the bravest and best of men.
One of the top five books that have had the largest impact in my life.
I read the book 'Holiness" by JC Ryle. It changed my life. I was at first angry because I have been a church leader for 20 years and had never presented nor understood the gospel in such a black and white manner.