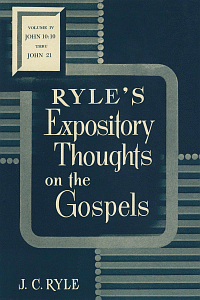 Expository Thoughts on the Gospels
Highlights
Unique Expository style
A detailed commentary on the Gospels
Viewed by many as the most practical ever written
These editions maybe more concise than others published editions
Product Details
Bishop J. C. Ryle's Expository Thoughts on the Gospels, were first published in 1856 and met with such a warm welcome from evangelical Christians of all denominations that they were reprinted in 1887, 1896 and subsequently in 1956. The final reprint in 1987 is still available today.
Bishop J. C. Ryle's account is an encouraging treatment of the Gospels — the life of Christ as told by Matthew "the gift of Jehovah", Mark, Luke "the beloved physician", and John "the son of thunder" under the direction of God's Spirit. The teachings and miracles of our Savior come to life in a powerful way, producing deeper devotion and increased commitment in the hearts of those who follow the Master.
About the Author
On May 10, 1816, John Charles Ryle was born to John and Susanna Ryle of Macclesfield, Cheshire County, England. He was educated at Eton and Christ Church, Oxford, where he was Craven Scholar in 1836. He was a fine athlete who rowed and played cricket for Oxford, and he took a first class degree in Greats. He was offered a college fellowship, which he declined. As the son of a wealthy banker, he was destined for a career in politics. Ryle took a different direction and answered a call to ordained ministry.
After holding a curacy at Exbury in Hampshire, Ryle became rector of St Thomas's, Winchester in 1843, and rector of Helmingham, Suffolk in 1844, and then went on to be vicar of Stradbroke in 1861. He was named honorary canon of Norwich in 1872. In 1880, at age 64, he became the first Anglican bishop of Liverpool, at the recommendation of Prime Minister Benjamin Disraeli.
Bishop Ryle was thoroughly evangelical and was uncompromising in his principles. He best expressed this in his writings in the Thirty-nine Articles of Religion. Some of the best known published titles by Bishop Ryle are:Christian Leaders of the last Century(1873), Practical Religion (1878) and Holiness(1879). In addition he published nearly 100 tracts.
In February, 1900, the at the age of 83, Ryle retired after many years of faithful ministry. In his diocese, he exercised a vigorous and straightforward preaching ministry, and was a faithful pastor to his clergy, exercising particular care over ordination retreats. He formed a clergy pension fund for his diocese and built over forty churches. Bishop Ryle was buried in the All Saints' Church, Childwall, Liverpool, in June of 1900.
Endorsements
Bishop Ryle is an evangelical champion . . . One of the bravest and best of men.
A masterly commentary. Very suggestive, and offers helpful devotional thoughts on every passage
A distillation of true Puritan theology presented in a highly readable and modern form.