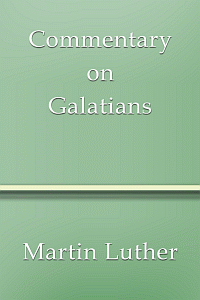 Luther's Commentary on Galatians
Highlights
One of the most popular and most used commentaries on Galatians
Great for pastors and serious Bible students
Transcribed by friends and admirers from his sermons and lectures
Named by the R. C. Ryan Center for Biblical Studies as one of the Best Tools for Preaching and Teaching
Product Details
Martin Luther's Commentary on Galatians unveils this New Testament text in such a unique way that will give pastors and serious students of the Bible a thorough analysis of its key passages, including the dangers of legalism and divisions within the Church. Ever since it was written, the apostle Paul's letter to the believers in Galatia has nurtured trust and assurance of Jesus Christ. Its grand themes of the superiority of Scripture over human reason, the sufficiency of Christ's atonement through his death, and the freedom of justification through faith alone continues to energize and enlighten Christians today.
About the Author
Martin Luther was born the son of the miner, in Eisleben, Germany, then part of the Holy Roman Empire in 1483. His father was determined to see Martin, his eldest son, become a lawyer. He sent Martin to Latin schools in Mansfeld, then Magdeburg in 1497, where he attended a school operated by a lay group called the Brethren of the Common Life, and Eisenach in 1498. The three schools focused on the so-called "trivium": grammar, rhetoric, and logic. In 1501, at the age of seventeen, he entered the University of Erfurt and received his master's degree in 1505. In accordance with his father's wishes, Luther enrolled in law school at the same university that year, but dropped out almost immediately, believing that law represented uncertainty. Luther sought assurances about life, and was drawn to theology and philosophy. He decided to leave his studies and become a monk and entered a closed Augustinian friary in Erfurt on 17 July 1505. In 1507, he was ordained to the priesthood, and in 1508 began teaching theology at the University of Wittenberg. He received a Bachelor's degree in Biblical studies in 1508, and another Bachelor's degree in the Sentences by Peter Lombard in 1509. In 1512, he was awarded his Doctor of Theology and in October of 1512, was received into the senate of the theological faculty of the University of Wittenberg, having been called to the position of Doctor in Bible. He spent the rest of his career in this position at the University of Wittenberg.
In 1517 Luther changed the course of Western civilization by initiating the Protestant Reformation. As a priest and theology professor, he confronted the sale of indulgences by church officials with his 95 Theses. Luther strongly disputed their claim that freedom from God's punishment of sin could be purchased with money. His refusal to retract all of his writings at the demand of Pope Leo X in 1520 and the Holy Roman Emperor Charles V at the Diet of Worms meeting in 1521 resulted in his excommunication by the pope and condemnation as an outlaw by the emperor.
But Luther himself saw the Reformation as something far more important than a revolt against ecclesiastical abuses. Luther taught that salvation is a free gift of God and received only by grace through faith in Jesus as redeemer from sin, not from good works. His theology challenged the authority of the pope of the Roman Catholic Church by teaching that the Bible is the only source of divinely revealed knowledge and opposed sacerdotalism by considering all baptized Christians to be a holy priesthood.
His translation of the Bible into the language of the people, instead of Latin, made it more accessible, causing a tremendous impact on the church and on German culture. It fostered the development of a standard version of the German language, added several principles to the art of translation, and influenced the translation into English of the King James Bible. His hymns inspired the development of singing in churches. Luther's marriage to Katharina von Bora set a model for the practice of clerical marriage, allowing Protestant priests to marry.
Luther had been suffering from ill health for years, including Ménière's disease and a cataract in one eye. From 1531–1546, his health deteriorated further. The years of struggle with Rome, the antagonisms with and among his fellow reformers, all may have contributed. In 1536, he began to suffer from kidney and bladder stones, and arthritis, and an ear infection ruptured an ear drum. His last sermon was delivered at Eisleben, his place of birth, on February 15, 1546. An apoplectic stroke deprived him of his speech, and he died February, 18 1546, aged 62, in Eisleben, the city of his birth. He was buried in the Castle Church in Wittenberg, beneath the pulpit.
Some of Luther's best known works are: Commentaries on Galatians, Romans, Peter and Jude, The Bondage of the Will, Treatise on Good Works, Larger and Smaller Catechism, Smalcald Articles, and Table Talk.
Endorsements
I prefer this book of Martin Luther's, (except the Bible), before all the books that I have ever seen, as most fit for a wounded conscience.
This is a great historic work, and is beyond criticism, on account of its great usefulness. As a commentary its accuracy might be questioned; but for emphatic utterances and clear statements of the great doctrine of the Epistle it remains altogether by itself, and must be judged per se.