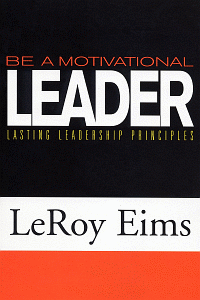 Be a Motivational Leader
Lasting Leadership Principles
Highlights
Focuses on 12 qualities of Leadership
Includes discussion questions related to each quality
Product Details
As a leader, how do you motivate people? How can you stimulate the enthusiasm and commitment that is needed for your team to excel? This best-selling leadership classic has the kind of profound, practical advice that you need.
Using Biblical examples, personal experiences, and a lifetime of wise insights, LeRoy Eims has written a valuable handbook for any leader who wants to help people reach their full potential. After reading this book, you will never be the same - and neither will the people you lead!
About the Author
LeRoy Eims was the director of public ministry for The Navigators. He is the author of several books, including the best-selling The Lost Art of Disciplemaking. LeRoy held an honorary doctor of divinity degree from Geneva College and was a speaker for the Staley Distinguished Christian Scholar Lecture Program. Leroy passed away in January 2004.
Endorsements
LeRoy Eims stimulated and encouraged my leadership when he was my leader in the Navigators. He challenged me to be my best. He trusted God to work through my life. LeRoy instills confidence that you can lead - and helps you to do it.
LeRoy Eims goes beyond the usual principles and techniques of leadership to get to the thing that matters most - the character of the leader. This book isn't just for leaders, it's for every Christian who wants to count for God.