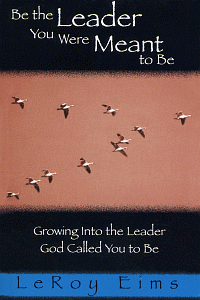 Be the Leader You Were Meant to Be
Growing Into the Leader God Called You to Be
Highlights
A general introduction to Christian leadership
Over 300,000 in print
Some topics include: resolving difficulties within a group, setting the stage for success of the organization, keys to staying "charged up" as a leader, and the dynamics of effective communication
Product Details
Has God given you a leadership role? This best-selling leadership classic is full of proven advice, solidly based on biblical principles to help you become an effective leader.
Leroy Eims is not an ivory tower leadership theorist. His insights have been tested and tempered in crucible of decades of leadership experience. But unlike other leadership books you may have read, the emphasis is not on techniques and tactics. Instead, Eims highlights the importance of leader's character. Because ultimately the person you are determines what you do.
About the Author
LeRoy Eims was the director of public ministry for The Navigators. He is the author of several books, including the best-selling The Lost Art of Disciplemaking. LeRoy held an honorary doctor of divinity degree from Geneva College and was a speaker for the Staley Distinguished Christian Scholar Lecture Program. Leroy passed away in January 2004.
Endorsements
LeRoy Eims stimulated and encouraged my leadership when he was my leader in the Navigators. He challenged me to be my best. He trusted God to work through my life. LeRoy instills confidence that you can lead - and helps you to do it.
LeRoy Eims goes beyond the usual principles and techniques of leadership to get to the thing that matters most - the character of the leader. This book isn't just for leaders, it's for every Christian who wants to count for God.