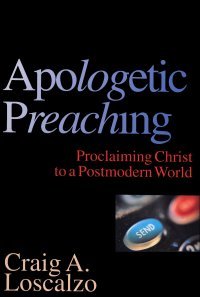 Apologetic Preaching
Proclaiming Christ to a Postmodern World
Highlights
Introduces what's different about postmodern listeners
Shows how today's challenges can be met with clear and compelling communication of the Gospel
Includes sample sermons that illustrate the ideas presented in each chapter
Product Details
How can we preach when traditional approaches no longer work? While dealing with apologetic issues about relativism and faith was once reserved for non-Christians, today even regular churchgoers have questions that need to be addressed. But not only do they have questions, they often seem to have a totally different mindset of skepticism and doubt that resists authoritative presentations of the truth of Scripture.
How can we preach about godly behavior when people appear oblivious to moral moorings? How can we talk about sin, evil, judgment and commitment in an era of political correctness? How can we draw people to true supernatural reality when a wide array of competing spiritual experiences beckons them in books, movies and alternative religions?
These are the challenges that Craig Loscalzo meets in this down-to-earth book. While giving straightforward explanations of the changes taking place all around us, he shows and tells concretely how to communicate clearly and compellingly. Brief sample sermons at the end of each chapter flesh out the principles he presents.
About the Author
Dr. Craig A. Loscalzo is the senior pastor of Immanuel Baptist Church, Lexington, Kentucky, where he has served since 1996. He came to this pastorate from eight years of teaching ministry as the Victor and Louise Lester Associate Professor of Christian Preaching, at The Southern Baptist Theological Seminary in Louisville, Kentucky.
Following four years of active service in the United States Air Force (1968-1972), and eight years of employment with Honeywell, Inc. (1974-1982), as a medical electronics service supervisor, Pastor Craig pursued a call to vocational Christian ministry. A native of Philadelphia, Pennsylvania, he received the Bachelor of Science degree from Nova Southeastern University, Ft. Lauderdale, Florida. He holds the Master of Divinity and the Doctor of Philosophy degrees from Southern Seminary. He did postdoctoral study as Visiting Scholar, Vanderbilt University Divinity School, Nashville, Tennessee.
Pastor Craig is a popular speaker and conference leader. He has written three books: Apologetic Preaching: Proclaiming Jesus Christ to a Postmodern World; Evangelistic Preaching That Connects; and Preaching Sermons that Connect: Effective Communication through Identification. He has also contributed to several other books and has written numerous articles in both scholarly and popular journals and magazines. Craig writes a regular column about preaching on the Internet called The Online Pulpit.
Endorsements
As the church awakens to a new era, the preacher must approach the pulpit with a new tactic, one not limited to the traditional, linear, reason-based explanation of the gospel. Apolgetic Preaching . . . is both a tour guide's orientation to postmodernism and a manual for reclaiming the apologetic role of the pulpit. . . . [It] has much to offer preachers who 'take seriously the intersection between idioms of the age and the theological verities of Christian faith.