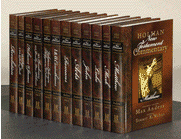 Holman New Testament Commentary Series
Highlights
Great for Bible teachers, small group leaders, Sunday School teachers
Verse-by-verse commentary based on the New International Version
Features teaching outlines, deeper discoveries and a closing prayer
Contains contemporary illustrations
12 Volumes in all
Product Details
The Holman New Testament Commentary Series is an eight-point study that leads the reader from an introduction with contemporary illustrations, a through verse-by-verse commentary, a conclusion and then finishes with a life application. Deeper discoveries help the reader understand the most important words, phrases, and teaching of each chapter. A teaching outline allows the reader to review what has been read, organize its message, and prepare to share it with others. The 'Final Issues for Discussion' section brings closure to the reader's study.
The volumes available in this 12 volume set:
Volume 1: Matthew — Stuart K. Weber
Volume 2: Mark — Rod Cooper
Volume 3: Luke — Trent C. Butler
Volume 4: John — Kenneth O. Gangel
Volume 5: Acts — Kenneth O. Gangel
Volume 6: Romans — Kenneth Boa
Volume 7: 1 & 2 Corinthians — Richard Pratt
Volume 8: Galatians, Ephesians, Philippians, Colossians — Max Anders
Volume 9: 1 & 2 Thessalonians, 1 & 2 Timothy, Titus, Philemon — Knute Larson
Volume 10: Hebrews & James — James Thomas Lea
Volume 11: 1 & 2 Peter, 1, 2 & 3 John and Jude — David Walls
Volume 12: Revelation — Kendell Easley
About the Editor:
Max Anders holds an M.Div. from Dallas Theological Seminary and a Ph.D. from Western Seminary. He specializes in communicating biblical truth in simple and engaging ways. Using compelling logic, captivating stories, Max is able to help readers understand important truth and apply it to their lives. He has spoken in nearly every state in the union and several foreign countries. While with Walk Thru the Bible Ministries, he not only taught and helped write seminars, but he also helped lead study tours to Israel, Egypt, and Greece.
Dr. Anders has taught on the college and seminary level, was an original team member of Walk Thru the Bible Ministries, and was a pastor for over 15 years. He is the author of over twenty books, including 30 Days to Understanding the Bible, which has sold over half a million copies, and was creator and general editor of the 20-volume Holman Old Testament Commentary series and the 12-volume Holman New Testament Commentary series.
Max and his wife, Margie, live in Indianapolis with their two children, Tanya and Christopher, whom they adopted from Russia.