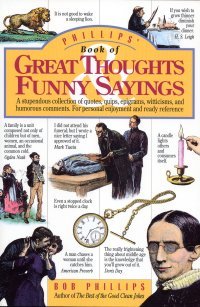 Phillips' Book of Great Thoughts and Funny Sayings
A Stupendous Collection of Quotes, Quips, Epigrams, Witticisms, and Humorous Comments
Highlights
Offers wit, wisdom, and an emphasis on practical living
Product Details
Phillips' Book of Great Thoughts and Funny Sayings contains over 3,300 quotations cross-referenced by over 900 topics, to help you add flavor and flair to any sermon or lesson. Here are some examples of the funny thoughts and sayings included in this 343-page volume:
The Funny: "There can't be a crisis next week. My schedule is already full." Henry Kissinger
The Profound: "He who builds to every man's advice will have a crooked house." Danish proverb
The Inspirational: "When one door of happiness closes, another opens; but often we look so long at the closed door that we do not see the one which has been opened for us." Helen Keller
The Witty: "To Exercise is human, not to is divine." Robert Orben
About the Author:
Dr. Bob Phillips, master compiler of the light and humorous side of life, has written over forty books, with more than 10 million copies in print. When Bob isn't scouring the earth for humor, he serves as director at large for Hume Lake Christian Camps, one of the nation's largest youth camping programs. Bob is also a licensed family counselor in California. He has presented leadership seminars worldwide in nineteen countries and has appeared on a number of TV and radio programs across the United States. Phillips is Co-founder of Pointman Leadership Institute and serves as its Executive Director.