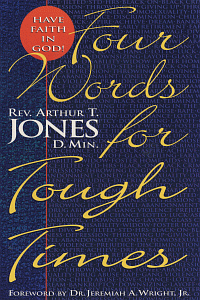 Four Words for Tough Times: Have Faith in God!
Product Details
Company downsizing, financial problems, bankruptcy, domestic violence, crime, divorce, psychological and physical abuse, continuing racism, malicious militias, alcohol and drug abuse, illness, poor educational systems, and uncontrollable children are among the problems that members of the Bible-Based Fellowship Church face daily. Coming to the pastors and members or our counseling ministry for help with these problems, they constantly remind us that Christians are not exempt from the problems encountered by the rest of society. However, Christians have a way out. They have the assurance that God is working all things together for their good (Romans 8:28). Sometimes however, in the midst of the storms of life, Christians forget that their God is always with them.
The development of this series of sermons and study guides is just one of the Holy Spirit's ways of challenging all Christians to "not forget to remember" the four little words which are the answer to our problems - "Have Faith in God!" The people of God must have unreserved and absolute trust in God. These sermons and study guides are designed to help God's people do just that, make faith a reality in their lives.
Four Words for Tough Times: Have Faith in God is divided into three sections. The first addresses the necessity of praise in the life of every believer. The second section addresses the youth of the church. Part three is especially designed to remind us that the family must "Have Faith in God!" It is important to know that as Africans living in America, our genealogy is important - we have a story and a history of which we can be proud.
About the Author
Dr. Arthur T. Jones serves as senior pastor of Bible-Based Fellowship Church, Inc. and executive director of the Florida Mass Choir, Inc. Dr. Jones completed his requirements for the Doctor of Ministry degree as a Jeremiah Wright, Cornel West, Molefi Asante scholar at the United Theological Seminary, Dayton, Ohio in March 1996.
Dr. Jones is a retired marketing executive of the IBM Corporation. During his tenure at IBM, he held several technical and marketing management positions. Half of his career was spent in management, the last eight years in numerous executive management assignments.
Dr. Jones' significant travels include a study of Israel, the Holy Land, Egypt, Switzerland, Greece, and four preaching and teaching missions to West Africa. He has also taught and preached in seminaries in Africa, Egypt, Senegal, Guinea, Cote d'Ivorie, Ghana, Niger, Burkino Faso, Kenya, and the Central African Republic. Dr. Jones has also served as executive producer for three highly successful cultural upliftment summer youth productions, Don't Give Up on Your Dream, Til Victory is Won, and What's Going On.
His extensive experience uniquely equips him to speak to the multi-faceted dynamics of management and ministry. He now devotes his energies to full-time ministry and community. His other professional and community affiliations and distinctions include The Coalition of African American Organizations, Broadcast Music Inc. and the National Academy of Recording Arts and Sciences.
Endorsements
Dr. Art Jones' God given ability and scholarly training enable him to analyze the biblical text, crystallize the eternal truth, and humanize the practical application so that the Word of God is seen and heard in a refreshing and contemporary way. I enthusiastically recommend this imaginative and creative expression of the gospel of Jesus Christ to all who seek an authentic and attractive faith.