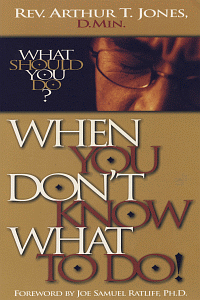 When You Don't Know What to Do!
Product Details
Invariably, at some point in life, some season in your walk with the Lord, during some period, you will run into some thing-some epic, or some condition-that will leave you declaring that you really don't know what to do. It doesn't matter who you are, it doesn't matter where you are from, and it doesn't matter what you have obtained, you are certain to encounter it.
Consequently, the question becomes what should you do when you don't know what to do? This work attempts to tackle such a question by attaching a biblio-centric figure to a socio-centric dilemma. It endeavors to glean from the lives and walks of early Christian's fortitude and give insight for today's struggle. In this volume, we look at the life, walk, and work of such luminaries as Peter, who was in a storm and didn't know what to do; Elijah, who was in the dumps and didn't know what to do; and the woman at the well who was in a fix and didn't know what to do. The work continues by taking a look at Jonah, the Old Testament prophet who was in a bind and didn't know what to do, and a servant, who was just too busy and didn't know how to make proper adjustments to his schedule. It concludes with a powerful message from Brother Gilead who found himself in a mess and didn't know what to do.
What should you do when you don't know what to do? Allow the response and resolve of each of these messages to minister to your spirit. For in each message, there is a common thread. There is (1) a request to God, (2) a reliance on God, and (3) a resolve to do what God says to do. So, if you are in a storm or in a fix; if you are in the dumps or in a bind; if you are in a mess or just found yourself too busy with work-a-day life, this book is for you.
About the Author
Dr. Arthur T. Jones serves as senior pastor of Bible-Based Fellowship Church, Inc. and executive director of the Florida Mass Choir, Inc. Dr. Jones completed his requirements for the Doctor of Ministry degree as a Jeremiah Wright, Cornel West, Molefi Asante scholar at the United Theological Seminary, Dayton, Ohio in March 1996.
Dr. Jones is a retired marketing executive of the IBM Corporation. During his tenure at IBM, he held several technical and marketing management positions. Half of his career was spent in management, the last eight years in numerous executive management assignments.
Dr. Jones' significant travels include a study of Israel,the Holy Land, Egypt, Switzerland, Greece, and four preaching and teaching missions to West Africa. He has also taught and preached in seminaries in Africa, Egypt, Senegal, Guinea, Cote d'Ivorie, Ghana, Niger, Burkino Faso, Kenya, and the Central African Republic. Dr. Jones has also served as executive producer for three highly successful cultural upliftment summer youth productions, Don't Give Up on Your Dream, Til Victory is Won, and What's Going On.
His extensive experience uniquely equips him to speak to the multi-faceted dynamics of management and ministry. He now devotes his energies to full-time ministry and community. His other professional and community affiliations and distinctions include The Coalition of African American Organizations, Broadcast Music Inc. and the National Academy of Recording Arts and Sciences.
Endorsements
In this series of sermons entitled, When You Don't Know What to Do!, Dr. Arthur T. Jones gives his readers timeless tools and sound principles for coping with the vicissitudes of life.