How to Write Narrative Sermons
Author: Jim L. Wilson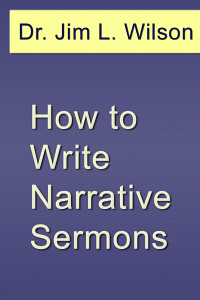 Product Highlights
Includes examples and instructions on writing 5 different types of narrative sermons
Targeted for a postmodern audience
Authored by a WORDsearch user
Product Details
Learn how to use the power of the story to awaken the imagination of postmodern audiences and teach them the powerful truths of the Bible in a form they can easily follow—that they'll want to follow. This 129-page book explains the concept and includes examples and instructions on writing 5 different types of narrative sermons. It also shows how to design organic worship services to help non-linear, visual thinkers connect with their Creator.
About the Author
Jim L. Wilson started preaching when he was 17 and became a pastor when he was 18. He has served churches in Texas, New Mexico and California. His longest tenure was with the First Baptist Church of Palm Desert where he served for ten years. Currently he is the Pastor of Lighthouse Baptist Church in Seaside, CA.
Pastor Jim graduated from Wayland Baptist University with a B.A. in Religion & Speech in 1981 and from Golden Gate Baptist Theological Seminary with a Master of Divinity in 1985 and a Doctor of Ministry Degree in 1991.
Dr. James L Wilson is an award winning writer with over 100 pieces in print in 40+ publications including some published by Christianity Today, Int., Focus on the Family, and Lifeway Christian Resources. His books include, The Heart of Deacon Ministry, The Boomerang Mandate, Transformations, How to Write Narrative Sermons and Future Church: Ministry in a Post-Seeker Age. He also contributed a Chapter to Stories for the Spirit-Filled Believer
This book also available within the following bundles: