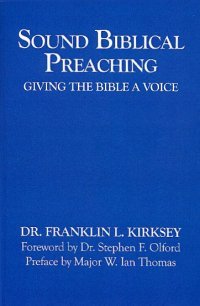 Sound Biblical Preaching
Giving The Bible A Voice
Highlights
Written by a Wordsearch user
Well written and thoroughly researched
A must have for anyone considering the ministry or who has served in that role for many years.
Product Details
Sound Biblical Preaching: Giving the Bible a Voice — is a comprehensive book on preaching that remarkably provides a survey of the whole subject in a short page span. Dr. Franklin L. Kirksey presents a compendium of information that is a veritable anthology of great preachers, past and present, to encourage, instruct and inspire the reader. This highly recommended book has a motivational message for the beginning preacher, the seasoned veteran of the pulpit and for one exploring God's call to preach the Word. As a result of careful reading and extensive research, Kirksey offers many practical "how to" insights, for example: How to accept the call of God; How to make sure you have been called and How to understand and undertake the call of God. The author insightfully weaves the sobering realities of the pastorate and the heavenly idealism of the pulpit ministry into this practical handbook that should be required reading for every preaching class. This "must read" book has been described as "very readable," and "a fast read with powerful punch."
About the Author
Dr. Franklin L. Kirksey was born on November 22, 1961 in Mobile, Alabama and was born again on May 16, 1965 in Citronelle, Alabama. Kirksey was called to the ministry after high school graduation in 1979 and has been a pastor for almost twenty years.
He received his B.A. degree (cum laude) from William Carey University, Mississippi, in 1983 where he was inducted into the Alpha Chi National Honor Society; the M.Div. degree from New Orleans Baptist Theological Seminary, Louisiana, in 1986; the D.Min. degree from Southern Baptist School for Biblical Studies, Florida, in 2001. He was inducted into the R.G. Lee Society of Fellows at Union University, Jackson, Tennessee in 2002.
Dr. Kirksey is pastor of First Baptist Church of Spanish Fort, Alabama where he has served since 2004. He has published messages in Pulpit Helps magazine, and PastorLife. Kirksey writes newspaper columns for the Call News, Citronelle, Alabama and the Press -Register, Mobile, Alabama.
Endorsements
Sound Biblical Preaching is a welcome contribution to the high and holy calling to 'rightly divide the word of truth'.
We are all indebted to Dr. Kirksey for his excellent research, dedication, and implementation of Sound Biblical Preaching. This generation is in dire need not only for instruction on the "how" exegesis but a model to follow. Dr. Kirksey has given us both. Sound Biblical Preaching is what every man who steps in the pulpit should be about.
Franklin Kirksey's commitment to solid biblical preaching is demonstrated on every page. This book will be of value to any preacher who wishes to more effectively proclaim God's Word.
Paul's words to Timothy could not have been more direct, 'Study to show yourself approved by God' and 'Preach the Word.' For two thousand years since, preachers have sought the Lord to carry out this critical mission and function of the church. Franklin has served us all by gathering some of the best thinking on the subject. It will encourage, instruct and inspire all those who faithfully labor in the Word.
Sound Biblical Preaching by Dr. Franklin Kirksey is like oil on the gears for the young, the busy, or just the overwhelmed pastor. He includes models of sound Biblical preaching from some of America's most effective and appreciated spiritual leaders and pulpiteers, and the insights gleaned from their examples are worth many times over the cost of the book.
I know of no greater need behind the pulpits in America than for sound, biblical preaching. With that in mind, I commend to you the Christ-honoring, expositional, exalting, teaching of Franklin Kirksey. You will be helped by his ministry.
Has preaching fallen on hard times? An open debate continues. Should the preacher seek to preach a biblical text through an expository sermon? Or should the preacher address the sermon to the "felt needs" of the congregation? Many evangelicals have chosen the second approach, resulting in a loss of biblical authority and biblical content in the sermon. Dr. Kirksey has presented the closing argument in this debate! He has written this insightful book to remind us yet once again of the need of the hour---a recovery of biblical preaching! This lucid work, a veritable encyclopedia of homiletical insight, will help the young preacher clarify his call to the ministry and begin to develop the discipline of a God-centered life that is essential for a fruitful preacher of the gospel. Read this volume and you will be encouraged!
It is refreshing indeed to read a book that serves to remind ministers and teachers of the depth, wonder, and sufficiency of God's Word. Dr. Franklin Kirksey, a gifted author and pastor, has delivered just such a text. Sound Biblical Preaching calls us to return to scriptural truth, structure, and expository preaching at a time when the church has become inundated with humanistic principles and topical presentations. Dr. Kirksey has initiated a "homecoming" for his fellow preachers that will return power and authority to the pulpit. It is my pleasure to recommend it to ministers, counselors, and educators everywhere!
Franklin Kirksey fleshes out what sound biblical preaching means for the life of the church today.
Preaching for most of us preachers is a real passion. Franklin's book gives us a foundation for our passion. Sometimes we need some fire but at all times we need the foundation. Sometimes we may need a focus but we always need the foundation. If we only have the fire and the focus we may be impressive but irrelevant. This book reminds us who are preachers and reveals to those who are not, that preaching is not just a chosen vocation but a Divine operation. We just purchased a large number to give to our Bible Institute preachers.
[Sound Biblical Preaching] is incredible. You are a gifted writer and communicator. Your book will remain a treasured part of my library. May God's richest blessings continue on you and your house.
Sound Biblical Preaching will inspire your thinking about preaching. Your desire to preach strong Biblical messages will increase. It will remind you of your call, and what God called you for. I am glad I have purchased a copy.